Seattle Not-Nice
"So how'd you feel about comping me two of 'em?"

Two of the six mini-burgers the dude just scarfed down at Cascadia. Cuz all of a sudden he decides they're "inedible." This after his girlfiend clicked shut her cell and alerted the barkeep the guy was enroute and "starving." Now, before we go off the deep end, these are one dollar bar snacks, the mainstay of Cascadia's happy hour.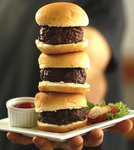 Barkeep demurs. "Let me know next time, I'll order them rare." Keeps his cool.

Me, on the next stool, I'm in the dude's face. Comp two bucks worth of bar snacks? "You're an embarrassment to the neighborhood," I say.

"Ten seconds, I'm going to lose my patience," sez the dude. Nine, eight, seven. Not nice, not nice.
Posted by Ronald Holden at April 7, 2006 11:45 AM