I just don't understand this. Are they natural allies or natural opponents?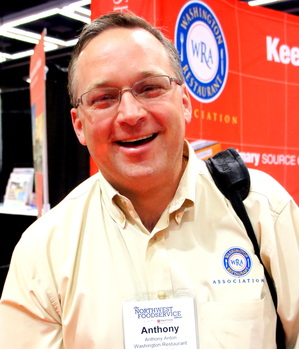 Over here, representing Washington State's hospitality industry (hotels and restaurants) is Anthony Anton, a perfectly reasonable guy who loves statistics, loves to tell his listeners how many people are employed by his industry, how many customers they serve, how much they contribute to the state's tax coffers.
And yet, this very same Anthony Anton was complaining last week that it was unreasonable to ask his members (that is, the people who pay his salary) to pony up $15 an hour for their workers. "Don't impose Seattle's minimum wage experiment on Washington," he told the Puget Sound Business Journal.
But $15 is no "experiment." It's an experiment only if you don't know the outcome. We know the outcome of a higher minimum wage, and, as study after study has shown, it results in greater prosperity for everyone.
And so we move to the other ass-backward debate, this time over the issue of regulating Airbnb. Yes, Seattle is short on hotel space. Yes, it's expensive to build new hotel space; $200K per room is just a starting price. But the appeal of Airbnb to property owners (that is, apartment dwellers or single-family home owners) is undeniable: it's just monetizing the spare bedroom.
Parenthetically, Airbnb is in the proud tradition of Servas, an international "hospitality exchange" organization founded in Denmark in 1949.
Here the tables are turned. Progressives fear that a landlord will take a vacant apartment or a vacant home that could (or should) go toward housing a local family, remove it from the long-term rental market in favor of the short-term benefits of renting to tourists at a higher price per night.
Needless to say, hotel owners are no fans of Airbnb either, but unless they had rooms to rent for fifty bucks of so (they don't), they should be reminded of this: no business category benefits more from Airbnb guests than the restaurant industry.
According to figures provided by Airbnb, guests pend spend an average of $198 per day per person in Seattle, about $70 of which is for dining out.
The average hotel room in downtown Seattle costs about $200 a night. But three quarters of Airbnb rooms aren't downtown or traditional tourists areas. And
From the restaurant report:
74 percent of Airbnb listings are outside of the traditional tourist hotspots and hotel districts.
42 percent of Airbnb guests' spending occurs in the neighborhood in which they are staying.
56 percent of guests who saved money by using Airbnb spent more on food and shopping
Seems straightforward: people who travel to Seattle no longer have to stay in "tourist hotspots." Airbnb takes the pressure off downtown convention hotels. With the money they save on commercial lodging, the visitors eat in neighborhood restaurants. Isn't this what you want? Aren't those cute and cozy bistros the very heart and soul of your organization? So please, WHA/WRA, stop the reflexive negativity, embrace the new Airbnb economy. Even if traditional hotels and Airbnb never align their interests (though they should), at least the restaurants do better under Airbnb.