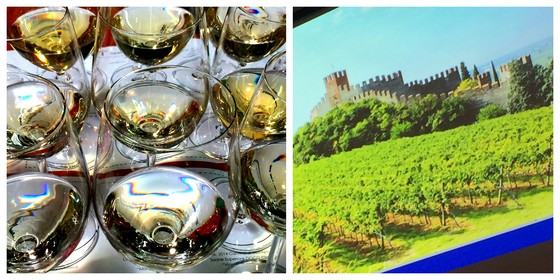 The town of Soave, midway between Milan and Venice, in the picturesque rolling hills of northern Italy, counts fewer than 7,000 souls, but the Soave name is applied to some 50 million bottles of white wine a year. Recognized for the quality of its vines--some 18,000 acres, the size of Napa Valley--Soave is the product of garganega grapes planted on volcanic soil, and is an ideal complement to the lighter foods (fish, shellfish, rice, pasta, cheese) of the region. The DOC, today's formal organization (borders, production protocols, and so on) date from the early 1930s, but the vineyards have been admired since the days the hills were occupied by a Germanic tribe, the Svevians, in the Middle Ages. Some 3,000 growers work the land today; four-fifths of their production is exported. The big competition comes from three gorillas: chardonnay, riesling, and pinot grigio, all of which are more familiar to the American palate than the less flamboyant, more mineral garganega.
Which is why the promotional arm of Soave has an elaborate road show: a Master Class with a blind tasting of twelve wines; a celebrity presenter (Master Sommelier, author and restaurateur Evan Goldstein); an intermezzo of cold cuts and a glass of Soave; then a multi-course lunch with six more wines; and a small library of glossy documents to take home. The road show alit at Tavolata one morning this week, with some 50 local sommeliers and wine writers in attendance. It's possible they were drawn by the prospect of a repast prepared by chef Addam Buzzalini and that they didn't notice the disclaimer: "Campaign Financed according to EC Regulations N 1308/13." That's the European Union's honey pot, doling out significant sums for the promotion of under-appreciated but politically significant wine via producer associations that are nominally self-financed. EC N1308/13 provides a little sweetener.
We've seen several of these projects across western Europe in recent vintages, to promote the wines of Puglia, Chianti, Collio, Sicily, the Alto Adige, the Loire, Champagne, Alsace, and so on. Sometimes entire countries (Portugal), sometimes appellations within sub-regions (Bordeaux Supérieur, Vino Nobile). Dutifully we go, to the trade shows, the road show luncheons, the receptions, the dinners; we taste, we take notes. (Not always wine, either. SOPEXA sponsors cheese tastings; there's even a Consorzio for Parma ham.) Then we say goodbye to the visitors, shake their hands, and wish them well on the next leg of their exhausting journeys. Back at their hotels the next morning the visitors don freshly-laundered shirts and freshly pressed suits, and fly on to the next market. Seriously, it's a tough life.