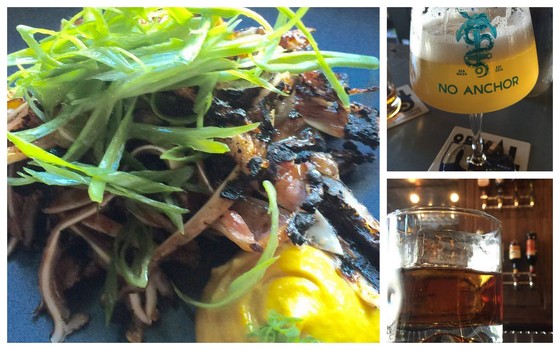 Brand new, open-today is No Anchor, at 2505 Second Avenue. It's the latest venture by Anu Apte-Elford and her husband, Chris Elford, and it's a beer-geek's heaven. Draft at two temperatures (42 degrees, 52 degrees) plus eight "On the Optic" cocktails on draft. I enjoyed the Beam Rye + Amer Picon, because I'm a big fan of Picon. Geek note: it's a classic "amaro," a bitter developed in the 1830s by Gaetan Picon, a French soldier serving in Algeria. What's it taste like? Well, funny you should ask. Amer Picon has never caught the fancy of Americans despite its similarity to the syrupy base of sodas like Coke and Dr. Pepper. Hugely popular in Alsace, though. It's usually consumed as a shot-and-a-beer boilermaker. What does that taste like? Well, you're basically adding a shot of orange-flavored bitters to a lager, which makes it darker, fruitier and more bitter.
On the food side, several "snacks, finger food & general ballyhoo" come from the kitchen helmed by the former chef at Spur, Jeffrey Vance. (Vance was named a Rising Star chef in 2015, before Spur and its Capitol Hill sibling, Tavern Law, went under; he's also exec chef for No Anchor's soon-to-open sibling, Navy Strength, next door.) One such item was grilled pig's ears accompanied by fermented mustard from Holy Mountain Brewery.
What drink with this? Well, Holy Mountain, of course. Demonteller (42 degrees). The brewery's website describes it thus: "A mixed culture Saison hopped with Citra and Mosaic. Demonteller was fermented and aged in one of our foudres, creating a delicate oak character that balances out a subtle acidity." Holy Mountain has very quickly established itself as one of Seattle's leading micro-breweries, especially among the passionate fringe of beer geeks.