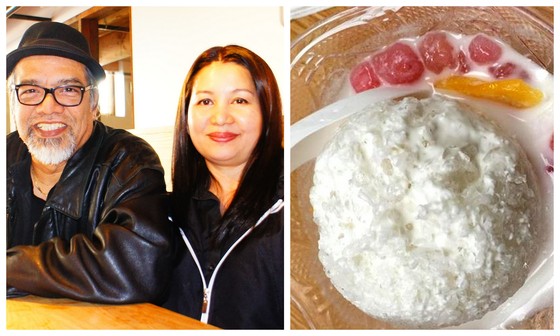 For several years now, Mark and Picha Pinkaow have operated a popular lunch spot in the International District called Thai Curry Simple. My son, Dominic, wrote a glowing review in The Stranger back in 2010.
Now the Pinkaows are about to open a second location, called Wann Yen, at 1313 NE 43rd St. in the U District. The new spot will feature shaved ice desserts.
At a benefit pop-up over the weekend, Picha Pinkaow was showing off pictures taken on her cellphone of the build-out at the new spot, which once housed Jim's Cameras. Diners were treated to a preview of one of the ices, called Tub Tim Grob (literally "rubies in coconut milk"): pink water-chestnut shaved ice with fresh coconut and jackfruit.
The spot will be called Wann Yen, website wannyen.com, which means
means "slow life" or "shaved ice" in Thai. Says Picha: "Our concept is to introduce Thai gourmet shaved ice with housemade flavors." Among them: candy-covered red dates, ruby sweet water chestnuts, sweet potato jam, toddy palm (similar to coconut), and Thai agar-agar jelly topping.