KuKuRuZa, the gourmet popcorn outfit that got its start in downtown Seattle, is doing gangbusters, and the U.S. Small Business Administration is honoring owner Grant Jones as its Washington State 2015 Young Entrepreneur of the Year.
New stores are, ahem, popping up literally all over the world: Japan, Saudi Arabia, Egypt, Ballard, Bellevue, (Technically, the storefront in Bellevue Square called Popcorn Pavillion was owned by a couple who bought KuKuRuZa from its founders four years ago.) Still, a terrific success story. Two dozen flavors, half sweet, half salty, from an espresso-dusted "Seattle" to a chocolate-drizzled "Tuxedo" to a "Maple Bacon" and a "Buffalo Bleu Cheese." The "Hawaiian" is flavored with pink rock salt; the "Brown Butter & Sea Salt" tastes like old-fashioned "movie theater" popcorn.
The word kukuruza is Russian for "maize." Kukuruznik is a nickname for crop-dusting airplanes, or a jibe at Nikita Kruschchev, who was wont to order random plantings of corn in the former Soviet Union. KuKuRuZa's corn comes from Nebraska, a "mushroom" variety that looks like kernel corn candies; it puffs up beautifully when air-popped at the company commissary in the International District. Except for that movie-theater version, which requires an all-white "butterfly" strain that breaks open when it pops to better absorb the brown butter.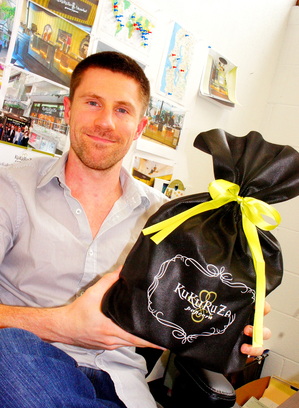 A philosophy major at UW, Grant Jones (and his wife, Ashley) had run Popcorn Pavillion for three years when George Marema approached him with the offer to sell KuKuRuZa, which back then had just the one location in downtown Seattle. (Hicks's wife, Laura, had come up with the name.) With the enthusiasm of a puppy, Jones began expanding and franchising the concept. Just this month, the company opened its second store in Japan, in a Tokyo suburb."The demand for our product so high," Jones notes, "that the average wait at our new store is just over two hours."
And it ain't cheap. KuKuRuZa is sold by volume, not weight, and a one-gallon bag runs $16. A four-flavor variety pack will set you back $39. At the corner of Third and Pike, tourists wander in for samples and walk out with a "flight pack" of seven flavors for $19 or a $48, two-gallon gift tin. You may scoff, but in Japan, let me remind you, they stand in line for two hours just to get in the door.
The small team at headquarters tries to develop a new flavor every month. Right now, it's BBQ Cheddar and Rocky Road, but the backlist (to use a publishing term) has some 75 titles. Pumpkin Spice Pecan turns up, as you might expect, once a year.
Duane Fladland, state director of the Washington SBDC, says, "Grant is a classic entrepreneur because he sees things differently than most people do."
You may scoff, but in Japan, let me remind you, they stand in line for two hours just to get in the door. And remember, they laughed at Gordon Bowker, too, when he talked about espresso. Not even Howard Schultz believed him at first.
NOTE: This post has been updated to reflect the corrections in the comments.