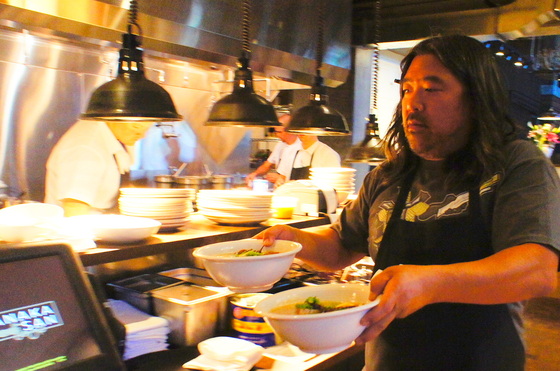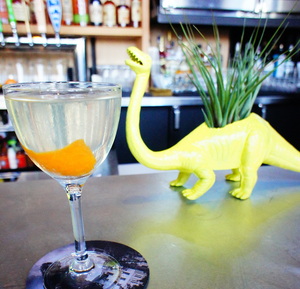 Tanaka San (one word or two, doesn't seem to matter much) is the official name, honoring Eric Tanaka's contribution to the Tom Douglas restaurant empire. It's a "modern American Asian restaurant," newly opened in the Via6 apartment block between Blanchard and Lenora on the western edge of Belltown, Sixth Avenue.
Known since high school as ET, Tanaka is Douglas's executive chef and business partner, the guy who converts the big picture (T-Doug's strong suit) into the nitty gritty of getting it done. He grew up in Los Angeles, a Japanese-American kid who ate his way effortlessly through the melting pot (almond duck in Chinatown; avocado burgers in the Valley).
Though many of the dishes at Tanaka San have Asian names, the menu isn't meant to be "authentic" anything in particular. There's a braised oxtail ($25), to be sure, and a wok fried crab ($34), but also "family fried rice" ($8.50) and a trio of ramen dishes (tonkotsu, photo, for $12). The miso-dashi ($8) is made with matzo balls. House cocktails include a Ghost Dog ($10) concocted from Big Gin, Dolin vermouth and Kiuchi No Shizuku sake.
On the west side of Sixth, right now, is another deep hole where Amazon plans to build its new headquarters, agglomerating offices currently spread around South Lake Union. Used to be, when the company was located in the old Public Health building, the employees would grab a cheap lunch in Chinatown, at the bottom of Beacon Hill. When they moved to SLU, old habits died hard: the workers preferred inexpensive food trucks to pricier full-serve. (In any event, a couple of Tom Douglas restaurants--Brave Horse Tavern and Cuoco--were waiting for them in SLU.)
Tanaka San is set to take advantage of Amazon's new prosperity, and it's only a couple of blocks from Westlake Mall, so there's no excuse for staying away.
Tanaka San, 2121 6th Avenue, Seattle