Yellow Polka-Dot Martini
The martinis already come in a bewildering array of colors & flavors at Tini Bigs, and they're adding even more. Owner Keith Robbins and GM Patrick Haight, authors of a comprehensive book of martini recipes, have come up with five newcomers: aloe vera & Bombay gin; pomegranate & ZipFizz powdered energy drink, green tea & ginger; roasted red peppers; and chocolate & chili pepper.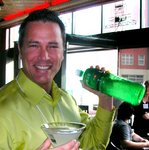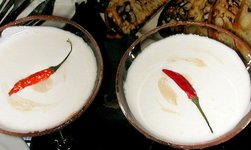 Patrick Haight with aloe vera; chocolate & chili "Vulcan" martinis
Gulp. The aloe-tini smelled like hand lotion, the pomegranate concoction reminded me of grape KoolAid. The one based on green tea tasted medicinal, perhaps from the overly sweet Yazi Ginger Vodka. Wanted a skewer of shrimp to stir this one, to complement the lime and ginger flavors. A ceviche cocktail, perhaps.
Best combo was the Vulcan, though name that may not make the final cut when the winning drinks are released on Tuesday. [Burning Man-tini, anyone?] Good stuff. Starts with an infused pepper vodka called Mazama, gold-medal spirit from the artisanal Bend Distillery. Add some Godiva liqueur. Rim the glass with cocoa and powdered chilis. Float some cream and a pepper on top, and voila! the perfect dessert.
Tini Bigs, 100 Denny Way, 206-284-0931
Posted by Ronald Holden at April 12, 2006 10:03 AM