Pizza Parkway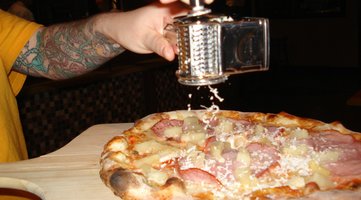 "Hey, Zeek, beam me up a pepperoni!" ... Bambino adds cheese to a Tropicale.
That's what Seattle's Fourth Avenue (Belltown's Garlic Gulch) has turned into, between downtown and Denny Way. At the north end, the venerable Zeek's takes intergalactic orders for traditional, predictable, topping-heavy slices. Bambino, a block away on Cedar, styles itself as "East Coast Pizza," whatever that means (thin crust, light toppings, one assumes). Given the flap over Domino's so-called Brooklyn Pizza, probably not a great idea. Ordered a Tropicale (east-coast-speak for Hawaiian); despite 575-degree, wood-fired oven, pizza was limp, soggy; application of freshly-grated Parmesan no help.
At Zeitoon, where Sub-Pop once had offices, pizza takes second place to stuffed pitas and wraps. Named for the olive trees of Iran, Zeitoon promises spit-roasted meats (the traditional Mediterranean gyros), but the machines hadn't been plugged in when I visited. So my reasonably tasty gyros consisted of a pita (toasted on a panino grill) filled with tomatoes, cucumbers, yogurt sauce and that gritty gray substance known fondly to anyone who ever frequented a college dining hall as Mystery Meat.
Best of the newcomers is Serious Pie, a Tom Douglas operation tucked in back of Dahlia Lounge. A serious oven, first of all. Pies aren't round but rectangular. Crust is crisp, crunchy; pizza is uncomplicated, tasty. Had one with Yukon Gold potatoes, olive oil, rosemary, very satisfying.
Fact is, I don't often eat pizza. Gold standard for me is Mamma Enza's thin-crust Sicilian verson at La Vita è Bella. An electric oven; nothing fancy. Nobody cuts up your pie (are you a baby?); you eat it with a knife & fork (like a grown-up).
You can vote once a day for Cornichon as your favorite wine & food blog. Go to LocalWineEvents.com to cast your ballot. Many thanks, merci infiniment, mille grazie, tausend Dank.

Posted by Ronald Holden at November 16, 2006 5:16 PM