One fork at a time

Fork in one hand, pen in the other, the critic Anton Ego prepares to taste Rémy's ratatouille.
What's this? A movie that stars a rat and food critic? Guess who's the bad guy? Seriously, the little rat, Ré, is a genius in the kitchen. But the food critic Anton Ego, voiced by 75-year-old Peter O'Toole, has the best lines, a brilliant monologue late in the film on the art of criticism that transforms Ratatouille into dogma. If you've ever written a harsh word about any artistic performance, it's your credo.
And they're marketing this as a movie for kids! What a mistake! Ratatouille is, among other things, an intelligent film about cooking in general and French cuisine specifically. Stirred into the soup, as it were, are several enchanting story lines with overlapping messages: the random and arbitrary nature of creative genius, the value of family, the breathtaking beauty of Paris, the simple pleasures of good food. The movie's premise, that a rat becomes a superstar chef, requires no particular suspension of disbelief; its embrace of French culture is never condescending.
The snooty critic, Anton Ego (brother of the less-famous Alter, one assumes) orders a 1947 Cheval Blanc when he visits Gusteau's, the restaurant where Rémy and his crew are "cooking," but the bottle at his table is clearly Lafite Rothschild. Quelle horreur! That's probably the only oversight in the film. The critic loves the ratatouille (which was actually created for the film by Thomas Keller of the French Laundry), and audiences of all ages loved the movie. It took in $47 million this weekend, beating Die Hard for the number one spot.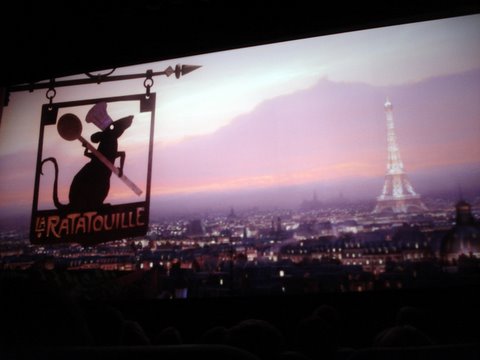 By the way the film makers even get the little things right, including a scene where Rémy's father shows him evidence of human cruelty: it's a real shop in Paris called Julien Aurouze at 8, rue des Halle. Its giant window display, "Destruction des Animaux Nuisibles," caught my attention a couple of months ago. The website's soundtrack is, gulp, "After you've gone."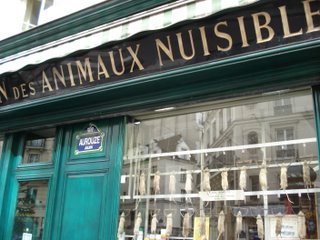 Posted by Ronald Holden at June 30, 2007 10:15 PM