August 23, 2004
Complacent v. Civilized
Answer me this one, sports fans: why would a popular, one-eyed café on the sunny sidewalk along First Avenue-why would any café, anywhere, for that matter-turn away a couple of hungry, thirsty customers at 2:05 on a Sunday afternoon, with a curt, "Sorry, we're closed"? Closed? At five past two? In Belltown? Hey, it happened to me just a couple of weeks ago. But it's their candy store, and they can close whenever they feel like it, even if it's bad for biz.

No matter, I'll know better next time, and head up to Jim and Joseph Buchanan's hot new spot at Second and Lenora, where they serve a hearty brunch that keeps civilized Sunday hours, namely 11 AM to 3:30 PM. Omelets, grits, waffles, peach cobbler ... Yes. Must ... stop ... writing ... about ... Alexandria's. .... But there's more to tell, and it might not be in season much longer.
Hurry on over and order a Strawberry Lemon Drop, created by bar manager Alberto Maza. The plethora of cosmos and kazis has numbed us to the pleasures of a real fruit drink; this one will awaken your senses. To a base line of Grey Goose vodka, Alberto adds fresh, cholesterol-lowering blueberries, fresh raspberries, fresh strawberries, a splash of sweet-&-sour mix, a splash of Cointreau and a splash of Chambord. He runs it through the blender and serves it in a giant, sugar-rimmed martini glass. Ambrosia. It's like test-driving a Maserati; you can go back to your Miata, but you'll always remember handling the Real Thing. No wonder Alberto was inducted into the Bartender Hall of Fame three years ago. Bravissimo, Alberto!
Posted by Ronald Holden at
4:45 PM
Subway Melody Malady
Let's look at the "glass half full" side of the Subway story.

I've never quite understood why Subway shops are allowed to mar the buildings they occupy with oversize signs, garish décor, hideous colors and ghastly lighting. (Don't we have a Belltown neighborhood design review board? Doesn't the city have standards?) Not to mention advertising that convinces the folks who eat there that the mediocre stuff they're ingesting is healthy.
To me, though, the worst offense is olfactory: Subway shops vent their ovens to the street, sending forth a disgusting odor of rancid fat, flour and yeast with all the subtlety of an overflowing outhouse. I suppose it might attract a starving basset hound or a drunken frat boy. "Duh...Mongo smell food. Mongo hungry."
However, and this is the good part, the carbophobic Atkins wackos have forced Subway to adapt. Subway is serving more and more of its "sandwiches" as low-carb wraps, so they're baking fewer loaves. Which means that there's less foul aroma emanating from the Subway grates.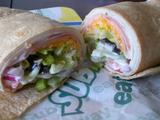 It still grates me, though, that Belltown has somehow spawned four, count 'em four Subway shops [I refuse to call them restaurants]: at 3rd & Lenora, 2nd & Wall, Western & Broad, 1st & Denny. And we're surrounded by an every-growing number of these storefronts ... downtown, at Seattle Center, on Lower Queen Anne.
Why can't one of the franchisees open a decent pho parlor instead?
Posted by Ronald Holden at
4:29 PM
August 22, 2004
Georgian On My Mind
The stately Georgian Room at Seattle's venerable Fairmont Olympic Hotel has been given a new coat of lemon-yellow along with a new GM and--fresh from New York's Le Bernardin and Bellevue's Seastar--the expert, Austrian-born sommelier Joseph Linder.


At lunch last week, a smokey, plank-roasted filet of salmon, accompanied by a superb white Burgundy, the Clos des Mouches from Drouhin. Ahhh.
Posted by Ronald Holden at
1:43 PM