Eat your spinach!
Seattle's restaurant-goers are a savvy bunch. There's a short list of signature dishes around town, and the spinaci served at Assaggio Ristorante is on that list.

It's an unexpected take on spinach salad. Unlike your standard tossed leaves with raspberry vinaigrette, this is sautéed spinach, served warm and fragrant, redolent of pine nuts, garlic, mustard and balsamic vinegar.
Once again, 25 of Seattle's most popular restaurants are offering a month-long promotion: 3 courses at dinner for $25. Ten of the group, including Assaggio, are also offering 3 courses at lunch for $12.50.
Too bad that Assaggio's Mauro Golmarvi has his regular spinach salad, the insalata di spinaci on the promotional menus for both lunch and dinner. Still, you can always order the sauté, or just read the recipe and look at more pictures ...
ASSAGGIO RISTORANTE'S SPINACI
SAUTEED SPINACH SALAD
Serves 2.

Prepared by Chef de Cuisine Hiram Macias.
For the salad: 2 TB finely chopped onion olive oil sea salt 2 TB finely chopped garlic ½ lemon 12 oz fresh spinach leaves, washed, blanched, drained & squeezed dry ¼ cup pine nuts
For the dressing: 2 TB Dijon-style mustard 1 tsp fresh lemon juice 1 tsp balsamic vinegar

In a 12-inch pan over high heat, soften the onions in 2 TB olive oil and a pinch of salt. Add the garlic and brown it slightly. Add the spinach and heat thoroughly, about 2 minutes, adding more olive oil if needed to keep from drying out. Mix in the pine nuts, squeeze the juice of ½ lemon over the spinach, add a bit more salt if needed.

In a small bowl, whisk the dressing ingredients together quickly. Turn the salad out on a warm serving plate and drizzle with the Dijon-balsamic vinaigrette. Serve warm.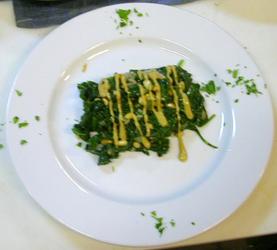 Posted by Ronald Holden at
3:51 PM