The dining room has the best view in Belltown, from corner windows five stories above Alaskan Way. The best prices, too: salads and appetizers for about $5, main dishes for $7.50, fine wines for $3 a glass, $15 a bottle. And the servers are forbidden to accept gratuities.
It's called the Portfolio Dining Room, the public face of the Art Institute of Seattle's two-year program in culinary arts.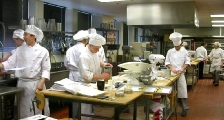 Chef-instructor David Wynne, a veteran of the Culinary Institute of America and local kitchens like Roy's, Brasa and The Ruins, oversees a group of two dozen 6th-quarter students who rotate between dining room and kitchen stations at lunch and dinner. Wine guru Dieter Shafer keeps an eye on service details.


I was delighted by the mezze plate of hummus, fromage blanc, tapenade, lentils, peppers and marinated beans, accompanied by freshly baked pita. Dieter brought out a bottle of earthy Erath pinot noir from Oregon that matched the meal perfectly. Then came a fragrant dish of cherrystone clams cooked with sausage and tomatoes.
Best part of the meal was an exquisitely tender chicken tagine with an apricot-flavored couscous. A perfect Mediterranean lunch.
Chef Wynne gets a new class every 11 weeks; the students approach each station with enthusiasm . Trouble is, the schedule keeps changing! In the best of times, Portfolio is open Wednesday, Thursday and Friday for lunch (11:30 to 1) and dinner (6 to 7:30). But it's lunch only during summer quarter, which lasts from July 19th to September 15th.
Best bet: call 206-239-2363 to be sure of a reservation. You won't be disappointed.