2005 Belltown Bravo! Aw@rds
My year-end Belltown Bravo! Aw@rds, barely worth the electrons they're printed on: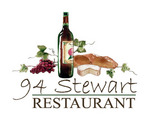 * Belltown restaurant of the year, 2005: Flying Fish. Celebrated its 10th anniversary, completed its transition to suppliers who practice fully sustainable and organic agriculture, continues to reward patrons with treats like oyster happy hour. No mean feat. Bravo, Chris Keff!
* Best newcomer, 2005: Black Bottle. (Cornichon had the first review back in July.) Knows what it wants to be, does it. Bravo, Chris Linker, Brian Durbin and Judy Boardman!
* Newcomer runner-up: 94 Stewart. Bravo Cindy and Lindsey Nelson!
* Best prospect for 2006: Boat Street Cafe
* Best new lounge: Suite 410.
* Best new happy hour menu: all those miniburgers at Cascadia. Bravo, Kerry Sear!
* Wish list for 2006: a pho parlor, please. Pretty please.
We pause to remember those who are no longer with us. The 2005 Belltown RIP roll call: Afrikando, U Wa Kitchen, Barocho, Torero's, Alexandria's, Axis.
That's it for this year, my friends. Oh-Five, you did a heck of a job!
Posted by Ronald Holden at December 31, 2005 7:28 PM