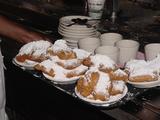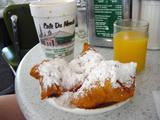 Cornichon's a sucker for French food words. And on a Monday morning, what better pick-me-up than coffee and beignets. Here's Kristin Espinasse's post for March 8th, 2004, on her terrific French-Word-A-Day site:

beignet (ben-yay) noun, masculine: 1. doughnut 2. fritter Also: Beignet aux pommes = apple fritter Beignets are enjoyed hot or at room temperature, and have various fillings, such as fruit, chocolate, vegetable, meat or fish... My son Max likes them tiede (warm) with apple or chocolate inside...
Today's Quote: Certes, un rêve de beignet, c'est un rêve, pas un beignet. Mais un rêve de voyage, c'est déjà un voyage. Of course, a dream about a doughnut is a dream, not a doughnut. But a dream about a voyage, that's already a voyage. --Marek Halter
Back to Cornichon now. In the US you can dream of a beignet and of travel ... if you lay your head in New Orleans and mosey down to the Café du Monde. Live jazz along with your breakfast, too.