Lots of activity on the restaurant front in Belltown these days. Three brand new places: Alexandria's on Second, Lola, U Wa Kitchen.

Also, lunch menus at a couple of familiar Belltown favorites, Flying Fish and Marco's Supper Club.
Read all about these spots below.
Three new Belltown places this month have their roots in Asia, the Mediterranean and Louisiana. If that's not multicultural, I'm Fannie Farmer.

Alexandria's On Second fills a niche I wasn't even aware that Seattle lacked: upscale southern cuisine. The owner, a record producer named Jim Buchanan, grew up here in Seattle, but his mom was from Louisiana, and his concept has already made its mark in Cleveland, where Alexandria's on Main has been a hit since 2002. Can collard greens and catfish be "upscale," you might wonder? Well, wonder no more. The most important part of "upscale southern" is, in fact, southern hospitality: a generous, welcoming and embracing spirit.
And high time, too. It's been three years and counting since Falling Waters locked its doors and left one of Belltown's prime restaurant spaces begging for an operator with savvy and experience. Whew! The wait is over. Alexandria's executive chef, Michael Franklin, is a 15-year veteran of high-end soul food, including the acclaimed Shark Bar, Mekka and Justin's.
It's not cheap though. A jambalaya of chicken and shrimp with a spicy creole sauce will set you back $26.95, as will a plate of the house linguini garnished with chicken, shrimp, mushrooms and peppers. On the other hand, where in Seattle, outside the Central District, can you expect "soul rolls" made with collard greens and black-eyed peas, red beans and rice; or a side of fresh string beans that have simmered for hours in a homemade stock of pork knuckles?
It takes confidence to turn out food like this, at prices like this, but if your clientele in Cleveland includes the likes of Lennie and Shaq, and your studio records Ziggy and Tupac, well, you won't be surprised if their friends turn up at your bar in Belltown. And perhaps buy a $200 bottle of Caymus. In fact, with Alexandria's big street-side windows, it's a far more visible place for stars and celebrity-watchers than The Gauch'. And that hospitality, friends, is genuine.
* * *
U Wa Kitchen has replaced Fortune on the sidewalk in front of Seattle Heights. It's the ambitious creation of Kenny Ma and Jack Wong, and aims to extend the "Axis of Asia" another block north along Second. The street already has sushi outposts every couple of blocks: Saito's, Wasabi and Shiro's, so it will be fun to see how U Wa develops. I counted 24 maki rolls on the menu, along with a dozen appetizers; several curries; noodle dishes from Vietnam, Thailand, China and Japan; and a selection of complete dinners. And that's before I started drooling over the display of yellow tail, squid, octopus, surf clam and scallops at the sushi bar. I'm eager to try the Dynamite Roll ("extremely spicy tuna w/tempura scallion," $5.25), but will restrain myself until the boys get their liquor license and I can quench the fire with an Asahi or Sapporo.
* * *
Tom Douglas's has an axis of his own ... east-west, more or less along Virginia. To the Triple Crown of Palace Kitchen, Dahlia Lounge and Etta's, he's now added Lola, just off the lobby of the remodeled Andrä hotel. Very professional, with good-looking wait staff, polished woods, dazzling porcelain, and a menu that celebrates Greece, including a $4 glass of pungent retsina. It made a fine accompaniment to a luncheon assortment of spreads: a yogurt tzatziki, a minty feta, a purée of carrots flavored with sumac, a little pot of red pepper, another of smoky eggplant and a garlicky skordalia. $14 for the plate, along with a delicious, freshly grilled pita. But only one. A second pita cost another $3. Boo, hiss! Aside to Tom: fix this! Because the kebabs, served with a Greek salad or garlic fries, are just yummy. Imagine, three skewers of delicate lamb's tongue, $12. Yes, tongue. Yuk, you say? Hey, dude, where's your sense of adventure?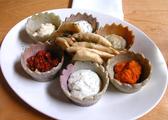 * * *
Newly opened for lunch:
Flying Fish, or, as I like to call it, Poisson Volant. (One man's fish is another man's poisson, you see.) Christine Keff, having closed Fandango, is now able to offer a half-hour, two-course, $15.95 "Fish on the Fly" lunch, a complete takeout menu, and an extensive à la carte selection of newcomers like ahi tuna poke ($8.95) and rock shrimp risotto ($14.75) along with longtime favorites like calamari with honey-jalapeño mayonnaise ($8.80) and Dungeness crab cakes ($13.95). As other lunch places are doing, Flying Fish offers a selection of classy non-alcoholic drinks, notably a tamarind-flavored agua fresca and a rosemary lemonade.

And while we're on the subject of lunch, Marco's Supper Club is extending its hours and inviting Belltown's hungry hordes to a midday meal in the secluded back patio, one of the neighborhood's sweetest secret spots. And The Belltown, no longer calling itself "pub," is offering a new, moderately priced lunchtime menu as well, with sidewalk seating.