They call themselves "ThinkWine" and maintain a wacky website that pokes fun at wine snobbery. In full regalia, they took their irreverence to the Thursday tasting at Seattle Cellars last week.

Sporting a giant afro, "Alfanso" (actually Travis Scarborough, sales rep for Acme Wine Company) poured wines from Joel Gott and Torbreck, while his buddies, dressed as "The Gorilla," "Manny Shevitz," "Mister" and "Lord Claret Pennyworth IX" sipped, posed and mingled. Sideways in Belltown!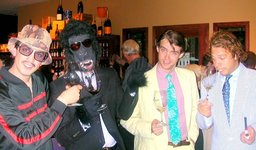 Good business, this casual attitude. Sales were way up, reports store owner Dave Woods.