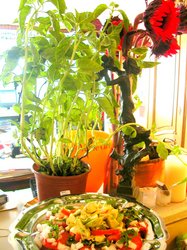 Back in Seattle after three weeks in France and straight to the market. Live basil plant, gorgeous red sunflowers, and the good things of summer in the Pacific Northwest: berries, tomatoes, zucchini, sweet onions, peas.

Exciting, dealing with all this bounty! Don't want to waste even a minute clearing the countertop. Slice the tomatoes, top with chopped onions, fresh basil, olive oil, Russell's 532 seasoning (salt, pepper, mystery spice), olive oil, balsamic. Hmm, seems to be room in the center of the tray for another salad. Quick! Mushrooms, yellow pepper, avocado, rice-wine vinegar. Heaven.
Resolution for the rest of the summer: no processed foods. Nothing frozen or shrink-wrapped. To the extent possible, won't buy stuff that comes in a box, bottle or can. Exceptions for milk and yogurt containers. And wine.
Footnote about the Mother & Child sculpture in the kitchen foliage: it's a study for Frederick Littman's popular bronze fountain in Portland's Council Crest Park. Hey, there's the Basilique de Notre Dame in Vézelay, why not a Notre Dame du Basilic at home?