Sandburg's City of the Broad Shoulders is getting pretty narrow-minded.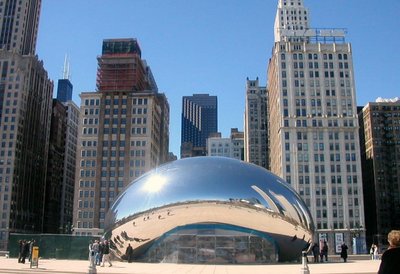 Cloud Gate sculpture at Millennium Park: skewed perspectives?
First came bans on smoking and foie gras. Next they targeted trans fat. Now they're going to make Wal-Mart to pay their poor schlubs $10 an hour.What's the Chicago City Council going to futz with next? Apple pie recipes? The shape of martini glasses at Gibson's?
OK, smoking's bad for you. Yes, some animals are raised for food. Sure, there's bad fat. Duh, stores that sell stuff for low prices pay low wages. But they're substituting wishful thinking for reality. Outlawing foie gras makes no more sense than mandating a minimum wage for specific employers; it's the Nanny State gone berserk.
Just imagine Mary Poppins as Hog Butcher to the World? Eeew.