A lot of Wagner makes you wonder: what's the point? And then a performance comes along that makes your spine tingle, your flesh crawl, your hair stand on end. James Rutherford delivered it on Saturday night at McCaw Hall, culminating the phantom mariner's dramatic monologue from Der fliegende Holländer with an invocation for apocalypse, ordering the very planets to stand still. By Jupiter, had I been Jupiter, Rutherford's commanding baritone would have stopped me cold and brought the universe to a halt.
Rutherford was one of eight contestants in Seattle Opera's inaugural International Wagner Competition, an event designed to identify and reward the best of that rare breed of singers able to stand and deliver the most difficult roles in opera: Wagner's outsize, mythic, troubled, spellbound, betrayed, accursed, doomed (and occasionally redeemed) heroes and heroines.
Seattle's been a Wagner town since the days of Seattle Opera's founder, Glynn Ross, who'd apprenticed at Bayreuth and produced the first Ring cycle in Seattle 30 years ago. When Speight Jenkins came along in 1983, he raised the stakes by incorporating all 10 Wagner operas into the company's repertoire. By now, Wagner's a staple of Seattle's culture, as entrenched and unquestioned as the Blue Angels, almost a civic religion and appropriately so: Wagner's mythology incorporates themes of pilgrimage and penance, shame and atonement, trust and treason, loyalty and loss, suicide and salvation, the divine gift of earthly love and the redeeming power of music. Not just music, Song.
Wagnerian singers, though, don't grow on trees, so Speight set out to find a new crop. Over the past year, underwritten by the Simonyi Fund for Arts & Sciences, he held auditions in Vienna, Berlin, London, Paris, Seattle, and New York. Candidates had to be under 40 and not have sung more than one major Wagner role in an opera house. The 8 finalists were brought to Seattle, where they faced a jury of 5 international Wagner experts and an eager audience.
What might have been "Opera Idol" with the Richard Wagner High School Marching Band, with 16 pieces from 9 operas, was, instead, remarkable.
At the end of the night, soprano Miriam Murphy was named the best female voice; in her two arias, she promised loyalty to Siegfieid, then vengeance and death to Tristan. But it was Rutherford who swept the field, taking home a $15,000 prize from the jury, the audience-choice plaque, and a surprise award from the orchestra (who played their hearts out under Israeli conducter Asher Fisch).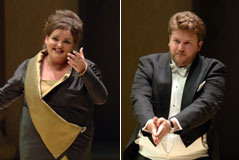 Seattle Opera photos by Rosarii Lynch.
Rutherford, a Brit whose previous Wagner role was in a Chicago production of Das Rheingold, sings in Meistersinger von Nürnberg next month in Edinburgh while Murphy goes to Covent Garden. Mazel Tov!
For those who missed the live event, KING FM will rebroadcast the competition in full next Saturday at 7 PM and stream it on www.king.org as well.
Meantime, listen to excerpts here.