In the centuries before the Po delta silted up, Ferrara was a leading seaport. Captains throughout the Mediterranean would tie up at one of the city's seven piers to have their ships fitted with sails made with canvas from Ferrara. Why? Helps to remember that the term "canvas" comes from "cannabis"... in other words, hemp.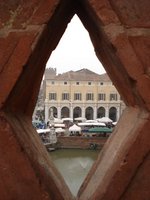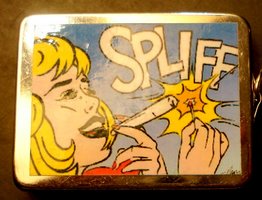 View from Ferrara's castello; "marijuana" matchbox from market vendor; pumpkin-stuffed pasta

Indeed, the plains of northern Italy were once the source of the world's best hemp, used for ropes, cloth and paper. American agronomists were recommending hemp seeds from Ferrara as recently as World War I. Alas, no longer; nostalgia makes for poor industrial policy. King Cotton, though it requires outrageous amounts of water and pesticides, has overthrown Hardworking Hemp and demonized its sexy sister, Mary Jane.
Ferrara's farmers, for their part, no longer harvest tasseled hemp. They're into pumpkins, which turn up in recipes across Emilia-Romagna.