Orders a cosmo. The new thing, in case you hadn't heard, is ultrapremium spirits. So barkeep pours ultrapremium Ultimat vodka from blown-glass container resembling oversize perfume bottle, adds Cointreau, splash of cran, wedge of lime and proffers resulting pink drink. "That'll be $15."
The bar would be Qube, site of the unlamented St. Regis Hotel at 2nd & Stewart on the fringe of Belltown, now complete with seismic retrofit and ambitious kitchen. Very high-end libations first, guided by Angel Aguilar (late of Axis).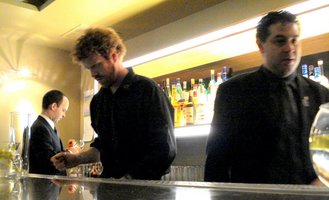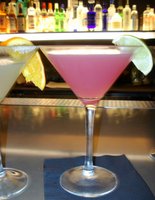 Bar at Qube: manager Angel Aguilar, right; wine consultant Jake Kosseff, left. "Ultimate Cosmo
Anyone for gin? Hendrick's, enhanced with ultrapremium Junmai Dai Ginjo sake, served with a cucumber ice cube and an edible orchid, $12. Bah, humbug! Scrooges should request more conventional tinis, ritas, kazis in the single digits.
Complex dinner "sets" at Qube aim high, with three riffs per course on the same ingredient, available as surf, turf or veg (shrimp, duck, mushrooms). More on dinner (relatively affordable, compared to cocktails) shortly. First, though, better give me another orchid.
Qube, 1901 2nd Avenue, Seattle, 206-770-5888