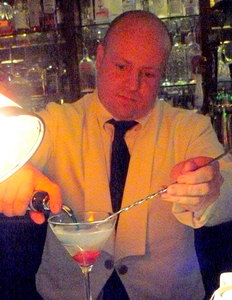 If this sounds snarky and needlessly mean-spirited, just blame the Chinese. In any event, the marketing wizards at McCormick & Schmick decreed that there would be cocktails with an Olympics theme, so the "Red White & Blue Martini" came into being.
Fortunately, barman Darrin Bengston knows his specific gravities. Raspberry purée into the bottom, followed by a shaker of Stoli Vanil and Stoli Blueberi. Float an ounce of Blue Curaçao, and voilà! The blue settles midway down the glass. Tastes like an eight-dollar popsicle.
Fortunately, too, McCormick's still has its after-10 PM happy hour menu, tasty plates under $2.