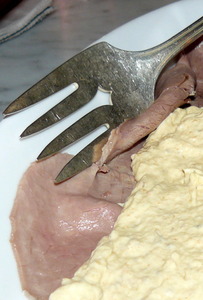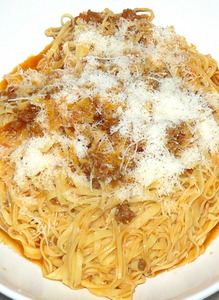 You'd hear reports from time to time, Justin Niedermeyer sightings. Trial dinners at Sitka & Spruce, name changes (Pian Pianino, anyone?), endless postponements. All over now. The name is Spinasse, and it served its first paying customers last night.
No gaudy sidewalk treatment, just a storefront on Capitol Hill where the Globe Café once dished out vegan fare. Inside, a stage set, what Sitka & Spruce might have looked like with a less minimalist decorator. Marble-topped bar with seats for six, flanked by butcher-block working surface that doubles as seating for four more. A heavy-duty, manual pasta-rolling machine; a wall festooned with pasta-cutting wheels. Beyond the bar, framed by a proscenium of bottles and glassware, the kitchen itself, the showy domain of Niedermeyer and his crew.
Pasta, you say? Not so fast. Antipasti first: salads, cured meats, and to my delight, a traditional vitello tonatto. Love this dish when properly made, with poached veal sliced very thin and topped with a tuna sauce. (Check here for the version--since renamed veal carpaccio--at How To Cook A Wolf.) This light and refereshing summer dish adds the piquancy of tuna (blended with capers and mayonnaise) to the juicy but relatively bland meat. Would have liked a lemon wedge on the plate, but ate every bite regardless.
Pasta, next. Many, many egg yolks. Rolled, not extruded. That means no round noodles, only flat sheets, and cut by hand at that. Tajarin these were, like tagliatelle only finer, served with a basic ragù (slightly undersalted, in need of an herb or two and a crack of pepper). Or agnolotti al plin (hand-pinched), with sage butter. Or potato gnocchi with mushrooms. All straightforward Italian country fare.
Main courses on opening night: slow-roasted goat or quick-roasted chicken. A la carte at the bar, prix fixe in the dining room ($33 for two courses, $47 for four). Wine list offers 34 choices, all from top Piedmont estates, 9 of them by the glass. Especially welcome: the quartino (quarter-liter carafe), ideal for glass-and-a-half drinking with each course.
There's cheese for dessert, to be sampled on the next visit. In the meantime, Spinasse represents a major paradigm shift for authentic Italian cooking in Seattle: no longer the exclusive province of self-taught immigrants (Sorrentino), and far superior to competent but soulless culinary-school Italian (Tavolata, Branziino).
Spinasse is said to be named for a hillside in Piedmont, but there's no reference to "Spinasse" in any of my Italian gazeteers. Another Justin Niedermeyer mystery, no doubt, to be resolved in due time.