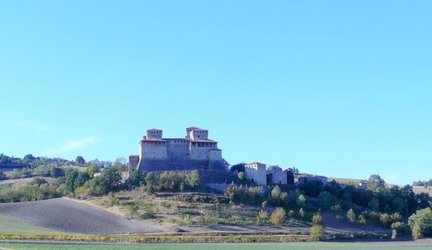 PARMA, Italy--What could be more Italian than prosciutto? The music of Verdi, perhaps. Today, we stand at the juncture of the two. Pigs, it's said, are like the music of Giuseppe Verdi (a native of these hills)...there's absolutely nothing to throw away.
The annual Verdi festival in Parma (a city smaller than Tacoma, Wash.) features several of his operas, performed in the jewelbox Teatro Regio. They're doing Nabucco this year, an opera known for its "Chorus of the Hebrew Slaves," which became the unofficial Italian anthem before the country was unified in 1861. Nearby, the massive 15th century castello of Torrechiara hosts a summer festival dedicated to Renata Tebaldi.
At the foot of the castello, in the village of Langhirano, there's a museum devoted to the production of prosciutto and its many variations, depending on the pig's anatomy and the method of preparation: ciccioli, copa, culatello, fiochetta, gola, lardo, lonzino, pancetta, salame, and, of course, the official Prosciutto di Parma, all made possible by the ready availability of salt (from the same wells that produce the soothing waters of the Apennine terme) and by nutritious feed for the pigs: the whey from the production of Parmegiano-Reggiano cheese (described in a Cornichon post on a previous visit).