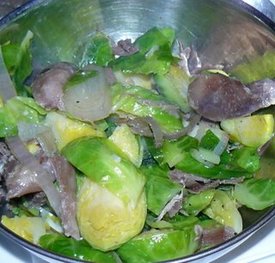 It's a little house on the corner of 37th and Wallingford, remodeled as an informal neighborhood restaurant dubbed Cantinetta. And if the space is new, the staff looks reassuringly familiar: Trevor Greenwood, the owner, has been at Via Tribunali and Queen City Grill; server Amon Mende has tended bar at Zig Zag and Barolo.
Behind the bar, another QCG alum, Burton Hill, assembles a fine negroni, and in the kitchen Brian Cartenuto and his crew turn out Italian staples like mussels putanesca, goat cheese agnolotti, tagliatelle with clams, and lamb spezzatino. Our Brussels sprouts with duck confit was a study in contrasts: on their own, the sprouts were undercooked, but with the addition of the confit they tasted like a coleslaw with duck-fat dressing. (A similar dish at Gainsbourg in Greenwood used bacon, vinaigrette and fennel, less successfully.)
And it's right about now that the sound system catches your attention. A gravelly voice, singing in Italian, with a glissando "'swonderful, 'swonderful" refrain. That's the inimitable Paolo Conte, an immensely popular performer from Piedmont whose style suggests the thick blue smoke of a crowded nightclub. His best-known number, Vieni Via Con Me (roughly: "Run Away With Me"), is full of sprung rhythms, suggesting the rocky road of an illicit romance (It's wonderful, good luck my baby, chips, chips!) Conte isn't nearly as popular in this country as he should be. Take a look at the YouTube video of his melancholy Gelato al Limon, set to images by Edward Hopper.
Back to Cantinetta. The beverage list has Italian wines on one side, Washington (Cayuse, Andrew Will and and Leonetti among them) on the other. If your taste runs to fancy Barolos and Brunellos, there's a nice selection of bottles over $100, but for everyday, the vino della casa at $5.50 a glass will do very nicely, grazie.
Cantinetta, 3650 Wallingford Ave. N., 206-632-1000