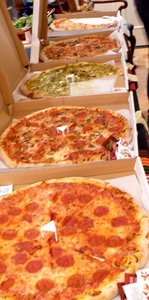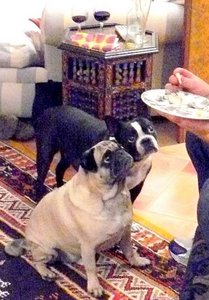 Start the New Year with strong dose of reality. Hot Mama's, supposedly the best pizza on Cap Hill, doesn't cut it for this eater. Crust soggy, toppings bland.
How'd this place become so popular, one wonders, when the far more authentic Via Tribunali is just up the street? Must have something to do with Seattle's pizza culture: a need for predictable and cheap to ingest when you've been drinking. Tribunali's a sit-down dinner place with wine and all; Hot Mama's a hole-in-the-wall with few pretensions. No serious website, either, just a MySpace page.
We order up four or five large-size, with assorted toppings, and head for a family reunion. (This falls into the non-believers holiday tradition of paying strangers to do the heavy lifting.) Not much aroma in the car (not a good sign) but exclamations of "Ooh, Hot Mama's!" upon arrival. The pineapple & Canadian bacon succumbs quickly to onslaughts from the teens. Pepperoni likewise. The vaunted pesto less so. Last to go under, surprisingly, is the Chef Choice (tomatoes, basil, mushroom, garlic). Remains boxed for the 13-year-old, often picky but pleased with his unexpected bounty.
On plus side, Hot Mama's isn't unduly greasy (relative lack of cheese), and family doggies appear genuinely grateful for bites of cold, dull crust.
Hot Mama's Pizza, 700 E. Pine (at Boylston), 206-322-6444