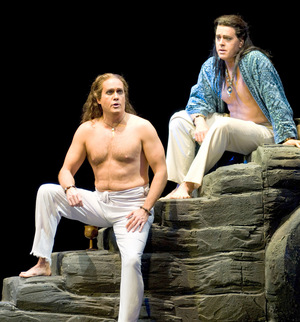 The best music in George Bizet's early opera, The Pearl Fishers, comes barely 10 minutes after the curtain rises; it's a justly celebrated duet between childhood buddies Nadir and Zurga. Nadir is sung by William Burden, who impressed local audiences last season in Iphigenia; he's a tenor, so you know he's going to get the girl, while Christopher Feigum, a baritone, sings Zurga, and you know he's going go through some soul-searching before he Does The Right Thing, in this case burning down the village that's just elected him chief so that his BFF and the girl (a fallen priestess) can make their getaway.
Well, it's a French opera, so sophisticated (or even credible) plotting isn't as important as an exotic locale (Ceylon) and the occasional ballet (principal dancers Bobby Briscoe doing his best leaping lizard moves, Lisa Gillespie writhing like a snake charmer to superfluously frantic choreography). The real pearl fishers, you may recall from the famous photos, are women on the Japanese island of Hekura. In this production (from Philadelphia), it seems to be the bare-chested guys who do the dangerous swimming. And why Philly? Turns out this is suddenly a very popular opera, with stagings in the past couple of seasons in San Francisco, San Diego, Denver, Detroit, Chicago, Montreal, and Washington, DC, in addition to the Philadephia set and costumes picked up by Seattle. All this fuss over a one-tune wonder by Bizet, 24 years old at the time, composed 12 years before his masterpiece, Carmen.
Back to the bare-chested guys. Gets warm in these south seas, no doubt, which accounts for the staging's languid pace. Much of the time, the principals kneel or recline on the scenery like the deity on a bottle of White Rock soda and sing themselves to sleep. On the podium, Gerard Schwartz does his best to propel the music and the action forward, but stage director Kay Walker Castaldo (a Philly holdover) doesn't do much to showcase the drama, what little there is. The theatrical highlight, a fight at the end of Act II, gives way to an almost comic, writhing group-grope in Act III. Blame the languid artists in the City of Brotherly Love.
Pearl Fishers was sung in French, and the credits included a French diction coach to help the singers navigate the shoals of pronunciation, though stumbles were inevitable. "Ton coeur n'a pas compris..." (Your heart didn't understand ...) took on a very different meaning when coeur (heart) was pronounced corps (body). Good thing we had Jonathan Dean's supratitles to help us read the depth charts.
Seattle Opera presents The Pearl Fishers at McCaw Hall through Jan. 24. Tickets $25 and up, 206-389-7676 or online.
Seattle Opera photo (Burden & Feigum) by Rosarii Lynch.