In chronological order: Monday's "Opening Day" of sorts for Grand Rêve Vintners, a new winery with vineyards on Red Mountain and a production facility in Kirkland. Inaugural release is a single-vineyard wine from Ciel du Cheval called "Collaboration Series." That collaboration is between entrepreneur Paul McBride and vineyard manager Ryan Johnson, the 10-year industry veteran who also manages Cadence Cara Mia, Galitzine Estate, and DeLille Grand Ciel vineyards. Ciel du Cheval, known for its complex, elegant fruit, is regarded as one of the state's most important vineyards. Tasting for the trade tomorrow; open house on Saturday, March 7th, at the winery, 12514 NE 130th Lane NE in Kirkland. Photo: Ben Smith of Cadence, Grand Reve owner Paul McBride, winemaker Ryan Johnson with first bottle of Grand Reve Collaboration Series.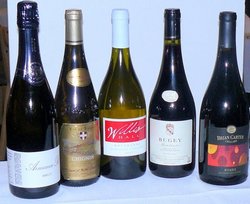 On Friday, March 6th, at 6:30, I'll be presenting the wines at an educational dinner at Portfolio. (That's the dining room attached to the International Culinary School, top floor of the Art Institute of Seattle, 2600 Alaskan Way.) Terrific view of Elliott Bay and the Olympics; five-course menu prepred by the students, five wines from Washington and France. Dieter Schafer, the restaurant's maitre d', joins me in hosting this enjoyable evening. Wines, in order: sparkling Loire (with oysters and lobster rillette), Chignin, a white from Savoie (with gnocchi), roussanne from Willis Hall winery; Bugey, a red from Savoie, to be served with a duck confit,; and Brian Carter's Byzance blend of red Rhone varieties, served with cheese and chocolate.
The published price for the dinner is $75 (including taxes and gratuities), but Cornichon readers get a 20 percent ($15) discount. Call 206-239-2363 for reservations and tell 'em Ronaldo sent you.
Then, on Monday, March 9th, at 6:30, I'm hosting a night of Sicilian wine and food at Sorrentino Trattoria, 2128 Queen Anne Ave. N. Just spent a week in the markets of Sicily's capital, Palermo, and have many pictures to show; don't worry, I won't make you eat the spleen sandwich. Mamma Enza Sorrentino has planned a five-course menu of Sicilian specialties: caponata or eggplant parmesan to start; the famous pasta con le sarde—pasta with sardines, if we can find some fresh ones; a lemon chicken main course (with vegetarian option, on request); tiramisu or cassata for dessert. Wines will include a sparkler from the slopes of Mt. Etna; whites made from cattarato and ansonica; reds based on nero d'avola (including Sicily's best wine, Cerasuola di Vittoria), and a sweet marsala to round out the evening. Price is $49. For reservations, please call the restaurant at 206-694-0055.