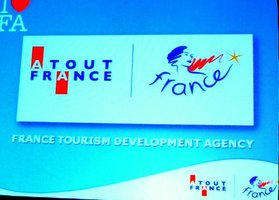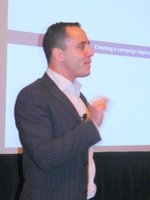 Atout France Director Jean-Philippe Perol, the new logo, WAYN's Jérôme Touze
Cornichon is in New York City this week for French Affairs, an annual confab organized by the French Tourism Development Agency. Last year, in Chicago, when this was still called Maison de la France, the big news was a promotional campaign called "Rendez-Vous in France." This year, they've reorganized. The Tourism Ministry no longer reports to Culture but to Finance. (Tourism is France's largest single generator of foreign revenue.) It has a new name: Atout France, which is a bit of a pun: un atout in French is your trump card. (In English, on the other hand, a tout is a pretty unreliable guide.) So what are they thinking?
Confusingly, the atoutfrance.com website has nothing to do with the agency; the official site is franceguide.com. It's full of useful tidbits, even includes videos, Twitter and Facebook links, but suffers from information overload: too many destinations, too many ad banners, too many promotions, too many links to tour operators and suppliers.
And yet there's much to admire. France was the first country to target a wide variety of niche travel markets: gay & lesbian, Jewish, religious, Hispanic, luxury, first-timers, retirees, French expats. Theme travel, too: culinary, wine, ski, spa, and so on. There's no comparable agency promoting the entire USA; individual companies (airlines, hotel chains, Disneyland destinations) and individual states and cities are expected to do their own marketing campaigns. The Sarkozy government pitched in to help France's embattled hospitality sector by cutting the VAT on restaurant meals by 75 percent, but hotel revenues, in the world's most visited country (77 million foreign tourists a year) are still down 13 percent. You get the feeling, with some 14,000 disparate events scheduled for 2010, that the whole country is scrambling.
Fewer Americans are heading to France, even though, in tough times, the preference is for the familiar vacation destination. Trouble is, the greenback is way down, worth only two-thirds of a euro. And the tour operators in attendance here, an older group, reflect the aging American traveler to France: over-50 repeat visitors. "The challenge is generational," says Patrice Doyon, Atout France's deputy director for strategy and research. "We have to make France attractive to younger people and first-tme visitors."
Which is why, at 8:30 in the morning, a roomful of mature adults are listening to the 29-year-old founder of WAYN.com (for "Where Are You Now?"), a Frenchman named Jérôme Touze, try to explain how social marketing works...and how it can help the tour operators build new business. Facebook use was up 217 percent last year; Twitter grew by 1,298 percent. It's a train the travel industry needs to ride.
One hopes that the country which built an incomparable TGV network (to continue the railroad metaphor for a moment) wouldn't be left standing on the platform. But it's hard to change course when you've got those 77 million reasonably content visitors spendng all that money every year. Atout France needs more than an ace in the hole or a trump card up their sleeve to compete with the global recession and the effect of $100 a barrel oil prices on airlne tickets; they need to lose that French sense of entitlement.