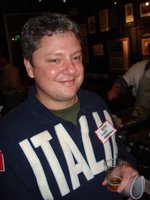 It's going to be hog heaven at The Herbfarm next month, when chef Keith Luce (photo far left) launches a new, nose-to-tail dinner menu, Makin' Bacon. It's not about 'the other white meat,' that bland industrial pork we've come to disdain, but heritage pigs and old-time curing skills.
In the nine-course dinner, pork will come in many guises, both fresh and cured, from hand-tended heritage hogs, including The Herbfarm's own Mangalitsas, an old, central European breed known as "Wooly Pigs."
"This is some of the finest pork ever," says Luce. The pigs are fed a diet of hazelnuts and native acorns, which gives them the depth of flavor that you find in places like Spain. "The meat is remarkable," agrees Herbfarm's owner Ron Zimmerman. The Makin' Bacon menu runs from November 6th through 15th.
Meantime, along the Ship Canal, chef Alvin Binuya is beginning the transformation of the menu at Ponti with a few new items for this weekend's Lamb Jam and next month's Dine Around Seattle. For Lamb Jam, Binuya has been designated a "leg man" and will be cooking up Oregon lamb-water chestnut pot stickers with a black vinegar-scallion dipping sauce.
Lamb Jam is this Sunday afternoon, October 25th, from 3 to 6 at the Bell Conference Center. Cost is $30, Brown Paper Tickets has, you know, tickets, if there are any left.
Ponti Seafood Grill, 3014 3rd Ave N, 206-284-3000
The Herbfarm, 14590 NE 145th St., Woodinville. 425-485-5300