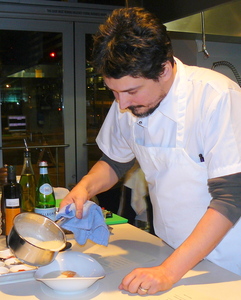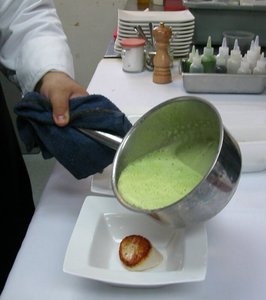 Scallops with sunchoke cream (Mistral Kitchen, Dec., 2009); scallops with cream of peas (Mistral, May, 2004)
The great scallop schism is now healed: William Belickis has returned to the kitchen, his kitchen, midway between downtown and Lake Union, at the narrow intersection of 8th and Westlake. The architect Tom Kundig has designed an industrial-modern space (anonymous doors, black steel tunnel) which Belickis has filled with kitchens: a traditional station at the glassed-in prow, rustic ovens (tandoor, pizza), technical ovens (sous-vide, convection), a pastry station. Despite the size, some 5,000 square feet, and 40 feet of windows overlooking the sidewalk, the dining spaces are intimate: a "jewel box" that seats 24 for fine dining, spots at the counter where you can watch prep cooks, a private dining room (upstairs) with a fireplace, a six-seat chef's table, secluded nooks on the main floor, a well-stocked bar.
The original Mistral in Belltown, replaced by Spur, was a true temple of gastronomy. The new Mistral Kitchen offers options. You don't have to spend three hours and $100 for dinner (though you could); you can come for a Negroni, wave hello to the cheerful staff, and be on your way into Seattle's cold, cold night.
Mistral Kitchen, 2020 Westlake Ave., Seattle, 206-623-1922