Twenty years have passed since Rick and Ann Yoder opened the original Wild Ginger, an unusual litle café with a pan-Asian menu on the Western slopes below the Market. In 2000 they moved uphill and took over the spacious Mann building at 3rd & Union, remodeling the upstairs in to a multi-sectioned 450-seat drinking & dining emporium and converting the lower level (a one-time porn theater) into one of the city's leading music venues, the Triple Door. Last year they expanded again, to the Bravern in Bellevue, a ready-made village of ultra shops, power offices and millionaire condos.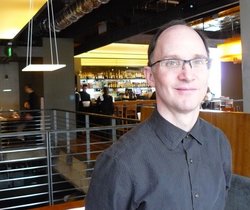 We'll come back to poke around the California-style mall another time; for now, we've come to sample weekend brunch at the new outpost. Dim sum without the ID's parking hassles and the long waits outside Jade Garden. Asian street food on the clean boulevards of Bellevue, where there's valet parking and a Transit Center across the road.
Just like downtown, they crack their own coconuts, grind their own spices, blend their own sambal. And they have a wine list! Grüner Veltliner and off-dry riesling by the glass. An enomatic with Yquem by the ounce. Riedel stemware. Industrial chic decor, which will define this decades as much as brick-&-fern did the 70s. Yoder himself is on hand, shyly offering guidance to cooks and servers. No impatient, uniformed ladies pushing steam carts of mysterious substances. (On the other hand, no garlic pea vines, either.) Four pieces of dim sum ("touch your heart") for 6 bucks max. Didn't care for the deep-fried prawn & sesame cracker, too much like diet food for our taste, but delicious hum bao, beef dumplings, shu mai, wrapped scallop & chives, and an array of dipping sauces.
Then the "hawker specialties" sold in Asia's open-air markets. Soups like pho (rice noodles), laksa (seafood), jook (rice again). Seven Element soup, a staple of the downtown Ginger, makes an appearance: egg noodles, tumeric, red curry, coconut milk and another dozen or so ingredients. You get a bib (so the turmeric won't stain your Armani). In Thailand, this dish is known as khao soi,also called Chiang Mai Curry Noodles, although we suspsect it's considerably more pungent on its home turf. (Chez Pim's classic recipe is archived here.)
This is Bellevue's version of Asian street food, not so much dumbed down as cleaned up. "Authentic"? If you mean aggressively spicy, no. The Ladies Who Lunch, who let the valet park their Lincolns, probably won't come in for the full-on Thai treatment, which you can find elsewhere on Bellevue's back streets, if that's your preference. But let's give Yoder and his crew big points for going where mainstreet Bellevue hasn't gone before, even if it's where the Eastside is already heading: there's a huge Asian community out past Crossroads, and the young fashionistas cruising the Bravern's shops look more like China Beach than Jersey Shore.. Wild Ginger is a culinary interpreter of that cultural shift, feet firmly in both camps.
Wild Ginger, 11020 NE 6th (the Bravern), Bellevue, 425-495-8889, Brunch 10-2 Saturday & Sunday