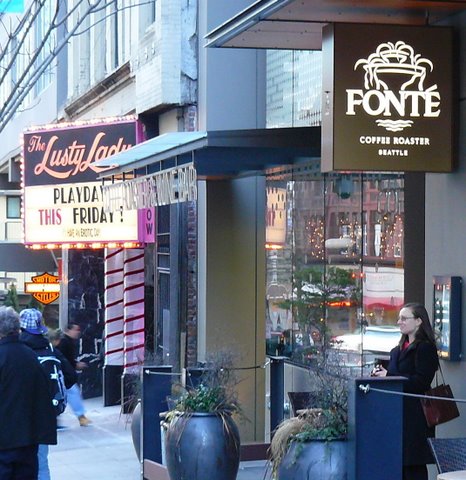 Fonté Coffee was a respected micro-roaster with a thriving wholesale business before it opened a retail outlet on First Avenue back in December. And not just coffee, but a wine bar and small-plates restaurant besides. The spot could be considered awkward: even though it's in the base of the Four Seasons Hotel and has Fran's Chocolates as a neighbor, the (ahem) Lusty Lady peep show is virtually next door.
Well, what's a strip joint between friends? To honor both its neighbors, the elegant chocolaterie and the bawdy porn parlor, Fonté has decided to offer a Lusty Latté and a Strawberries, Lust & Chocolate pairing.
"We've always appreciated Fonté's location between two iconic Seattle businesses – both made famous for two very different things – lust and chocolate," says Tysan Dutta, Fonté's general manager and sommelier."We decided that February was the ideal time to celebrate each of them both."
The Lusty Latté, developed by Fonté's morning latte diva, Melissa Harris, features a seductive and spicy combination of black cherry, clove and pistachio. Prices start at $2.85 for a 12-ounce latté.
Dutta created the Strawberries, Lust & Chocolate pairing, which includes two champagne flutes of Pierre Sparr's pink bubbles served alongside house-made passion fruit truffles and chocolate sauce for dipping fresh strawberries ($20 serves two).
And the week before Valentine's Day, Chef Mark Shaughnessy will feature menu items with aphrodisiac qualities, such as including prosciutto wrapped figs with goat cheese and honey ($6) and local oysters on the half shell with a pomegranate mignonette ($2 each). Fonté also offers a range of small plates developed for sharing, including dates stuffed with almonds and pancetta and a roasted root vegetable bruschetta with herbed mascarpone and aged balsamic.
Cornichon is licking his lips.
Fonte Wine & Coffee Bar, 1321 1st Ave, Seattle, 206-762-0760