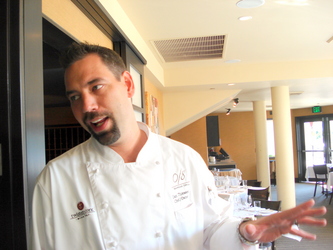 For the past couple of years, it looked like Bellevue's fine-dining scene was immune from the crunch facing upscale restaurants on the Seattle side of the lake. You'd see new places open like crazy: Artisanal Brasserie, John Howie Steak, Purple Café & Wine Bar and Barrio, for example. But there's been a hiccup. Solstice Restaurants has closed all three of its downtown Bellevue properties: 0/8 Seafood Grill, Stir Martini + Raw Bar and Twisted Cork Wine Bar. Matt Bomberger, the Bellevue businessman who bankrolled the company (and removed his original partner, chef Dan Thiessen--photographed at 0/8), pulled the plug at the end of last week, citing the difficulty of competing with the deep pockets of "corporate" restaurants like Maggiano's and Palomino. But Bradley & Mikel's Pearl, an independent with a truly difficult location across the porte cochère from the Bellevue Westin Hotel, just celebrated its first anniversary; and two independent Seattle restaurants (Wild Ginger and Boom Noodle) have just opened Bellevue branches.
Meantime, a couple of new spots in Seattle this week. First, there's Bisato, which Lampreia chef Scott Carsberg opened Tuesday night in Belltown. Carsberg had been hoping to move, but failed to find a buyer for Lampreia. The remodeled space is less formal, offers Venetian-style cicchetti (small plates) starting at $2 and inexpensive wines. And on Friday, at 7th and Olive, in the space left vacant by the bankruptcy of Oceanaire, Kevin and Terresa Davis will open Blueacre Seafood. The chef will be Bryan O'Connor (last seen at Cliff House in San Francisco) and the GM Bruce Sturgeon (of Wild Ginger).David Leck (formerly of Elliott's and winner of the Oyster Olympics five years in a row) will welcome guests at Blueacre's shellfish bar. That's one of the few bits of Oceanaire that haven't been touched by the remodel, remarkable for its efficiency. The Davises couldn't wait, you see; Terresa's expecting twins in April.
PS:Two more openings: on Eastlake, Nettletown. On Melrose, Sitka & Spruce (formerly in the Eastlake space).