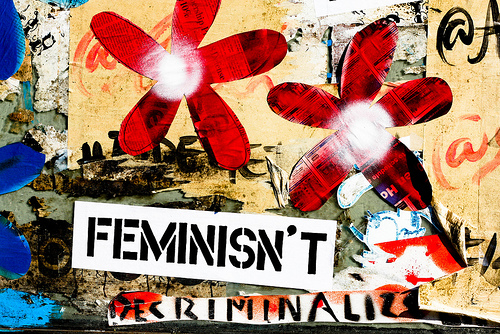 from SeaDevi's Flickr stream, used with permission
Our favorite daily (heck, our only daily), the Seattle Times, is going through interesting times. First, it won a Pulitzer for breaking news coverage (the Lakewood shootings), then it got its ass kicked by the kids at The Stranger (the defeat of the "aggressive solicitation" ordinance).
What's a girl to do? Fairview Fanny's fallback: raise a stink about the new "Red Menace" of urban blight: graffiti. Easier to complain about homeless artists than, say, to look into the interlocking corporate structure of criminally faulty construction of high-rise buildings, right?
Now, Cornichon ran a typically snarky item three years ago about a zonked-out dude commissioned to paint a graffiti-style mural in Belltown, didn't raise an eyebrow. Since then, though, the local editors at the Times have hooked up with half a dozen microblogs that cover neighborhood news. The first target of this project: urban art. Specifically, the cost of removing unwanted paintings. There's a sop to neutrality, a profile of a prolific tagger, that results, predictably, in a vitritiolic comment thread.
Used to be, publishers would use their resources to whip up hysteria in favor of a war. Now, alas, the best the Times can do is scold like a schoolmarm. Meanwhile, the architects and contractors, lawyers and landlords, inspectors and bureaucrats responsible for building cheap-jack skyscrapers get off scott-free.