Several times a year, Seattle becomes a bizarre cultural outpost of an otherwise foreign land. Mexico (Cinco di Mayo), China (Chinese New Year), France (Bastille Day), Ireland (St. Patrick's Day), all excuses to get drunk in public. The advantage of Germany's Oktoberfest is that it actually lasts several weeks.
Beer, sausages, good times for weeks on end, but you don't have to travel to Munich. Feierabend imports the real thing, each brew served in official glassware. Pike Brewery leads the local brewpubs, as we've written in the past.
Gordon Biersch, next to the cineplex atop Pacific Place, doesn't look like a conventional brewpub; you can't see the brewing vessels that were lowered into the building by helicopter exactly 12 years ago, just before the roof was closed up. But they're there, and beers are the best thing Biersch has going.
Four brews have pride of place, with the seasonal Festbier, $5.50, now making its appearance. It's an excellent example of a moderately hopped German lager, a lovely bronze in color and just the right amount of bitterness. A stein costs $5.50, a buck less during early and late happy hours.
While there are more and more craft breweries with pubs attached, none even comes close to Biersch in scale. It's a $100-million-plus chain, one of the top 250 in the country, each store doing an average of $4 million in sales. Biersch has a conventional bar, the part you see when you emerge from the theater, with 3-D plasma screens for sports fans, but beyond that are a suite of dining rooms that seat, all-in-all, 650 people. Outside hotel banquet faciligies, it's one of the biggest restaurants in Seattle.
There are over two dozen similar Gordon Biersch breweries around the country, collectively turning out four million meals a year, an undertaking not without ambition, since each store not only brews its own beers but makes its own food from scratch. The trouble, as I've written more than once, is that corporate restaurants tend to lose their flavors as well as their soul; it takes enormous vigilance to run an army of managers, cooks, servers and bussers. (The motivating acronym at Biersch is EGET: "Every Guest, Every Time.") And so far, so good.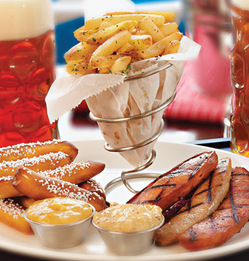 Seattle's exec chef Bill Heckler says he's given the new Oktoberfest menu a "creative approach to bold international flavors Gordon Biersch is known for," but there's not enough bold flavor to recommend the crusted Norwegian salmon garnished with a bland "dill cream" that tastes of neither. Best item on the special menu is the Jaegerschnitzel (a $15,95 pork cutlet with a mildly spicy breading and a tasty mushroom deglaze). The kitchen's indecisiveness is exemplified by the spaetzle (which the menu calls "spaetzels"). They're supposed to be fluffy egg noodle-dumplings, Biersch's are flavorless morsels of fried dough. The vaunted apple-cinnamon cobbler is served piping hot, but it's all dough, and unsweet at that. On the other hand, there's not much that can go wrong with the traditional German sausage platter (bratwurst, knackwurst and Hungarian sausages with pretzel sticks and garlic fries, $12.95).
Stick to what's safe (the Festbier, the sausages) and enjoy the 3D screens, and you'll be fine. The Oktoberfest promotion runs through Oct. 24th.