A new survey by Chicago Cutlery finds that Canadians are sharper than Americans when it comes to cooking habits and the use of knives in the kitchen.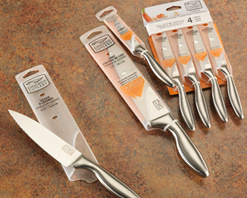 The study coincides with the launch of the company's knives in Canada. Our neighbors to the north outranked Americans on the "Sharp Cities Index," with Montreal, Vancouver and Toronto scoring higher than New York, Los Angeles, and Chicago. (Seattle wasn't included in the survey, alas.) Montreal (indexed at 62.2 out of 100) topped the entire list. Houston outranked New York, Los Angeles (57.4) and Chicago.(44.9, dead last).Canadians cook more than Americans, using knives to prepare an average of 21 meals per week, compared to seven meals per week in the US. Slightly more than a third of Canadians, slightly less than a third of Americans said they "sharpen their knives for better performance."
This is relevant because two of the most ambitious meals served to Cornichon in the past couple of months have been prepared by Canadian chefs. Over the summer, as we reported here, Chef James Walt of Araxia prepared a stunning dinner for 150 guests in a field north of Whistler not to mention an amazing sweet corn soup back at his home base.
And earlier this week, at Joey on Lake Union in Seattle, another Canadian chef, Chris Mills, dazzled a roomful of skeptical foodies with a six-course, six-wine extravaganza that previewed his upcoming dinner at James Beard House in New York on November 20th ($170 per guest).
Joey isn't the first place you'd think of, if asked to name a local haute cuisine spot like, say, Mistral Kitchen or Bisato. Gathering many of the dinner's ingredients himself, not just sourcing everything from purveyors, Mills created a Pacific Rim menu that ranged from Japanese hummus to Vietnamese banana cake, from Alaska black cod and Haida Gwaii salmon that he caught himself to Lapin cherries from Kelowna that he personally canned .The sliced beef rib-eye was garnished with potatoes from Helmers Farm in Pemberton and root vegetables from Bellmann Farm in Armstrong, the sort of hyper-local commitment that chefs like to talk about but can't often muster.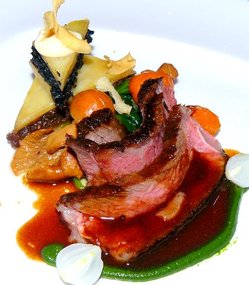 A James Beard dinner is the sort of exercise any good chef can only dream of, given the astronomical cost of undertaking a venture of this scale. The "guest chef" is expected to donate everything (product, labor, travel) to James Beard House; he's in it for the glory. Which explains why most of Seattle's "celebrity chefs" give JBH a pass; it's just too expensive. But Joey is a chain of 20 stores, the three in Seattle are the only US outposts. While they're comfortable in their upscale casual niche, they also recognize the need to motivate the staff beyond lettuce wraps and curry bowls. Mills is one of the company's stars; the first Canadian to compete in the original Iron Chef competition in Tokyo, he placed 5th in the world-wide Bocuse d'Or competition a few years ago and has since created a 16-stage training program for Joey's young chefs.
So is Mills wasting his time with sliders and tacos? Well, knowing how to executie complicated dishes is a great way to motivate your staff, you can hear him say, and besides, customers deserve a good meal, even if most of them show up just to guzzle Joey's $5 happy hour "Supersonic Gin & Tonic." They treat you right, those Canadians.
Joey Lake Union, 901 Fairview Ave. N., Seattle, 206-749-5639