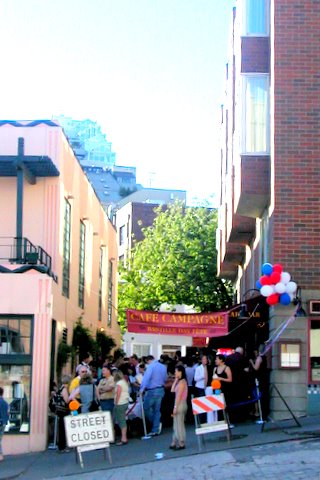 Comes word that Campagne, the fancy-pants restaurant in the courtyard of the ideally located Inn at the Market, will close starting Sunday for several months of renovations (much-needed, if truth be told). If you're the sort of fancy-pants person who frequents Campagne even once or twice a year, this is grim news, because January is 20-Buck Duck month. Where are you gonig to get your fix? First course: poached duck egg atop potatoes fried in duck fat. Second course: duck confit with lentils. This is gastronomic heaven, people!
A note to explain the fancy-pants part: on Bastille Day, Campagne has been offering a pricey dinner for aristocrats. The real action, as everyone knows, is in the street below, where Cafe Campagne provides a menu of plebian sausages and bawdy entertainment.
Back to the ducks. Relief is on the way. Same 20-Buck Duck menu will be served downstairs, at Cafe Campagne, nightly through January. Cyril Frechier remains on duty as sommelier. Daisley Gordon continues to run the kitchen. No revolution after all, unless you count the "off with their heads" part, suffered by the duck.