South Lake Union, a generation ago, was where you went to browse for antiques or drop off your car for a change of tires. Well, the Firestone store is still there, in the 400 block of Westlake Avenue N., repainted in a shade of cream that reflects and diffuses the late afternoon light straight into the windows of Soul Wine across the street. Michael Teer, the owner, is grateful for the clear, clean glow across his tasting bar. Teer loves jazz but loves wine produced by owner-operated wineries even more.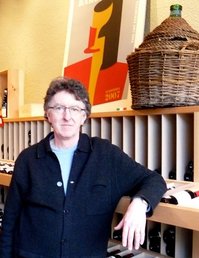 "It's a passion, not a business," Teer explains. For the past 20 years, he has also owned Pike & Western the iconic wine shop in the Market just south of Tom Douglas's recently opened Seatown Seabar. As it happens, Teer's wife, Pamela Hinckley, is chief executive officer of the Tom Douglas corporation, and that's where the rest of the old Napa Auto Parts building comes in.
Downstairs, it's going to be a retail bakery (all the production for Dahlia Bakery) as well as a neighborhood coffee and sandwich shop. Then, at 3 PM, it turns seriously Italian, with hand-carved prosciutto to nibble while you're waiting for a table upstairs.
And upstairs, the new, applewood-fired oven is still idling at 645 degrees for now; the pizzaiolo on duty, Mike Mearns, isn't pushing it too hard. Seven kinds of pie, not your usual cheese-covered buffet but serious stuff: Yukon Gold potatoes, sweet fennel sausage, Yellowfoot chanterelles, Penn Cove clams, Brussels sprouts. It's Serious Pie, a brand new, South Lake Union offshoot of Tom Douglas's ever-expanding restaurant empire.
The crust of a Serious Pie pizza is remarkable: all things to all people. It's chewy, it's crisp; it's thin but not too thin. It holds its shape but it's not a cracker. The Brussels sprouts pie starts with a base of smoked pancetta and caramelized onions; not until it's been baked for eight minutes or so does it get its final topping of blanched and shredded Brussel sprouts, and then just long enough to heat them through.
Mearns drizzles the pizza's crusty edge with olive oil, applies a healthy squirt of ricotta cream and grates a shower of parmesan over everything. You don't have to eat a lot of pizza to recognize this as something special. Connoisseurs, however, may have just one complaint: not enough pancetta. Then again, they've been open less than 24 hours at this point, they'll find their sweet, serious spot before long.
Soul Wine, 401 Westlake Ave. N., Seattle, 206-436-2350
Serious Pie, 401 Westlake Ave. N., Seattle, 206-436-0050