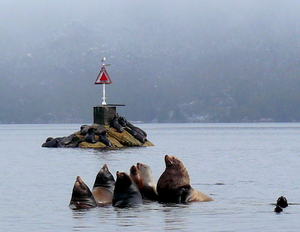 TOFINO, British Columbia--Half a dozen outfitters here offer expeditions to see whales (greys, orcas) and bears (brown, mostly) from the safety and comfort of a motorized vessel with a clean washroom. On our trip yesterday, wiith Jeff Tom at the wheel of the 12-passenger Wasco, we came across bald eagles perched in the snow-dusted trees lining Meares Island and huge masses of glistening California sea lions, barking and basking in the sun like ebony statues.
But none of this would be happenening without another wild animal. Well over a century ago, when British and American fur traders arrived in these coastal Pacific waters (charted by Spanish navigators) they found a "crop" ready for plucking: the playful sea otters, whose pelts fetched high prices across the Pacific (Japan, China). Until, of course, the supply of otters ran out.
So Tofino, isolated on the western coast of Vancouver Island, languished, a haven for hippies and draft dodgers. At least until the gravel, cross-island logging roads were finally paved in the early 1970s, about the same time that sea otters--now recognized as a vital "keystone predator"--were re-introduced to local waters.
Turns out that sea otters are voracious critters, feeding on huge quantities of crabs, geoducks and sea urchins. The sea urchins, in turn, feed on kelp. Fewer sea otters, more crab (local residents love 'em!) and fewer giant kelp along the shore (making for easier navigation). So re-introducing sea otters re-establishes a more complete ecosystem but makes for unhappy diners and unhappy pleasure boaters.
On the other hand, back aboard the Wasco, chef Derek Sandercock of Addictive Foods whipped up a buffet lunch of freshly shucked oysters and beer-battered oyster sliders. The bears were in hiding, the whales were out there somewhere. We heard only the lapping of the water and the vociferous barking of the sea lions.