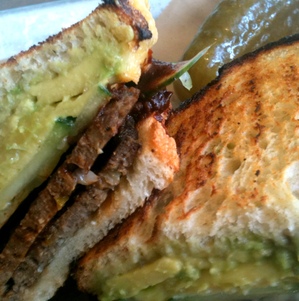 The "Meatloaf Monday" special at Homegrown on Queen Anne should have been amazing. The company does everything right: "Our goal...is not only to create sandwiches out of sustainable ingredients but also to make sandwich creation sustainable itself." Recycling, of course. Peanut allergy warnings, check. Decent ingredients, absolutely.
Sliced meatloaf (Thundering Hooves beef), avocado & cucumbers (organic, locally sourced), Gouda, grilled wheat bread from Essential Baking Company. So what happened? A mistake common to lunch counters and fine dining houses alike: too much stuff. The meatloaf was sliced too thin, then it was grilled so it resembled nothing more than a dry all-beef patty. Goopy avocado oozed out under the crispy, unseasoned cukes. The cheese added nothing. Four, five, six competing flavors, including a dollop of hot sauce on the meatloaf. The result was indistinct and undistinguished.
Is it just me? Or has restaurant cooking become so gussied up that even a meatloaf sandwich needs reckless adornment?
Homegrown, 2201 Queen Anne N., Seattle, 206-217-4745
UPDATE: Thundering Hooves closed in mid-March. Blue Valley Meats has taken over some of the distribution functions. Details here.