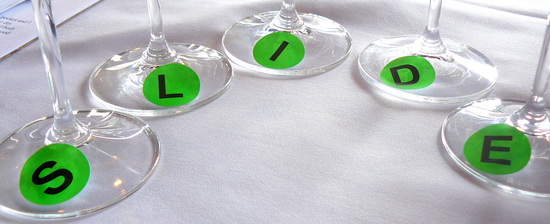 So here's the deal, says Jon Rowley, organizer of the 17th annual Oyster Wine competition: it's not about the wine, it's about "the next oyster." (Oysters courtesy of Taylor Shellfish, the event sponsor.)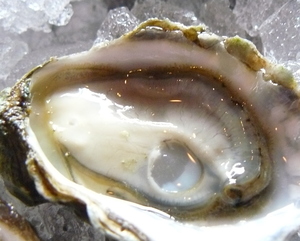 Rowley reads aloud Ernest Hemingway's passage from A Movable Feast:
As I ate the oysters with their strong taste of the sea and their faint metallic taste that the cold white wine washed away, leaving only the sea taste and the succulent texture, and as I drank their liquid from each shell and washed it down with the crisp taste of the wine, I lost the empty feeling and began to be happy and to make plans.
We wrote about this event last year, in what seems a simpler time. This year, Pulitzer-Prize winner Jonathan Gold was on Tuesday's panel in Los Angeles. Patricia Wells, based in Paris, turned up for the tasting in San Francisco on Wednesday. Cornichon was a humble participant in Thursday's final round of taste-offs at Anthony's Homeport in Shilshole. But between last year and this, there seems to have been a sea-change (forgive us) not in the oysters but in the wines.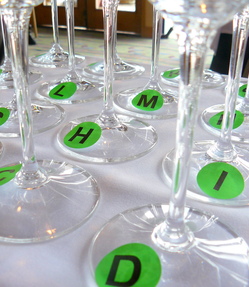 Some 119 wines were entered in the competition, but among the 20 finalists this year, no rieslings. No semillons, It was a battle between bottlings of grassy sauvignon blanc and muted pinot grigio. Washington and Oregon used to be shoo-ins; this year, the majority of the finalists are from California. Gulp!
A Japanese journalist, writing a book about oysters, observes closely. We smell the oyster (not the wine). We chew the oyster. We sip the wine. We swallow. We move on to the next oyster. We move from glass A to glass T. Riedel glassware at that.
The Kumomotos are perfectly shucked and chilled to the same frostiness as the wines. Propelled from one oyster to the next by the wine.Sometimes propelled, that is, sometimes not so much. No clunkers, a couple of standouts The formal announcement awaits a final tally of 50 or so tasters. We wonder, we wonder: how would Hemingway measure bliss?
UPDATE, Sunday, May 1: Anyway, the list of winners has now been posted.