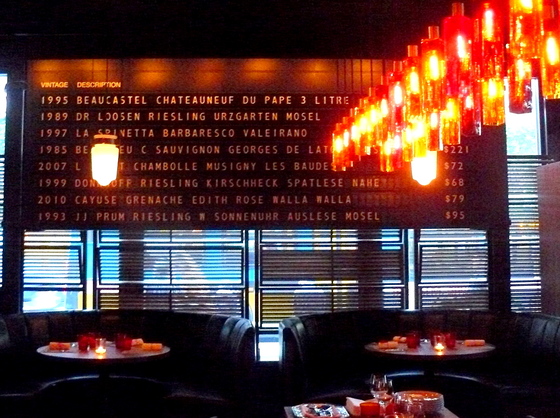 They make a lot of noise, those clattering, old-fashioned, arrivals-departures signs ("Real-Time Information Display Systems") on the walls at Michael Mina's new RN74 on the corner of 4th and Pike. They're not announcing trains but wines, last bottles of whatever's about to sell out.
They were custom-made by Solari in Udine, one of the provincial capitals of Friuli, in northeastern Italy, where I coincidentally spent the past week, zipping around the Collio hills. And yes, they do have a ribolla gialla from the Slovenian side of the border on their list ($61, must be a typo), but the real star here is Burgundy.
True, this is a Michael Mina restaurant, but that's welcome news, since Mina's a local boy who made good (born in Egypt, grew up in Ellensburg, worked at the Space Needle and at Anthony's in Kirkland, comes back regularly to visit family), but don't think for a minute that it's burdened with the fussy-fancy frou-frou of his eponymous, ultra-high-end restaurant, originally at the Weston St. Francis, now on California St. in San Francisco. Not that there's anything wrong with elegant, even fussy, high-end food, but RN74 is different.
For one thing, it's as much about wine as it is food. Wine in a relaxed, burnished wood setting, without the heavy pretensions of, say, Purple, just up the street.
The wine side of the concept is under the watchful eye of Rajat Parr, wine director for all 19 of the restaurants in the Michael Mina group. Parr, born in Calcutta, started his wine career at Rubicon, tutored by former Seattle sommelier Larry Stone and soon fell in love with Burgundy. Hence RN74's name, the road that connects many of Burgundy's most picturesque villages. Purists will complain that it's no longer called RN74 but D974, but we can all agree that D974 would be a ridiculous name for a restaurant.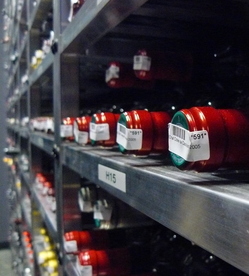 Parr (on the left in the photo above) also teamed up with Jordan MacKay to write this year's James Beard award-winning wine book, "Secrets of the Sommeliers." No secret: the initial inventory at the Seattle outpost of RN74 involved an outlay of over $500,000 to stock the cellar with 8,000 bottles. Parr plans "Behind the Bottle" wine dinners every two weeks to help drink them up.
The kitchen, which opened for evening service on Thursday, is guided by Executive Chef Michelle Retallack, a veteran of 12 years with Mina. (Big hit: Snake River Farms braised beef shortribs.) We've already heard the good news that Murray Stenson will soon take up his post as head barman, with a platoon of local stalwarts joining him, headed by former Cascadia and Café Juanita sommelier Jeff Lindsay-Thorsen along with Black Bottle's barkeep Noah Goldman. You can expect more detailed reports in the months ahead.
Mina isn't making the mistakes that have befallen other big-name chefs (Wolfgang Puck, Todd English, Terrence Brennan) who basically left their babies in the hands of daycare workers far too soon. He and Parr are staying onsite for several months to make sure the place runs the way they want.
Cornichon's colleague Jay Friedman, Seattle's other sex guru, has already written that the Solari board shouldn't make you rush into things; take the time, he says, to get the most pleasure you can, every step of the way. (His column, "Sexy Feast," runs in Seattle Weekly's food blog, Voracious; you can read the whole thing here.) I'm not sure I agree with Jay. I rather enjoyed the periodic detumescence of the Solari board; it felt like a Happy Hour quickie. But, as with wine, it's whatever turns you on.
RN74, 1433 4th Avenue, Seattle, 206-456-7474 (get it?)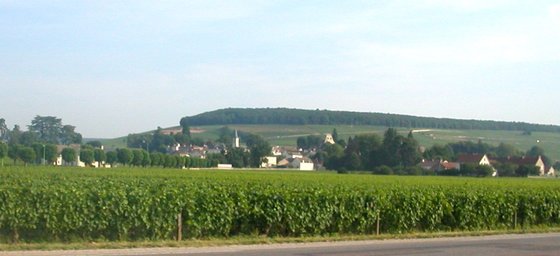 The road formerly known as Route Nationale 74 in Burgundy, as it runs below the village of Aloxe Corton.