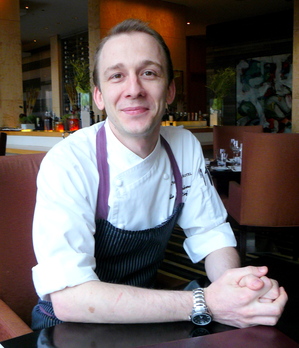 Jelle Vandenbroucke, 30, has been the chef at ART in the Four Seasons Hotel for six months, taking some of the pressure off Exec Chef Kerry Sear, who also shoulders the job of the hotel's Food & Beverage Director. When a directive came down from the luxury chain's headquarters that 25 percent of all the restaurants' menus had to be "local," Jelle (pronounced "Yelleh") knew he was on safe ground. "We're already at 82 percent!" he said. A native of Bruges, he left after completing culinary school and has never worked in Belgium. Instead, he caught the travel bug with a year in New Orleans. He joined Four Seasons as a sous-chef in Provence, then moved to the chain's Westlake Village property outside Los Angeles before moving to Seattle "without any preconceived notions" of what he would find. ART is a training ground for Jelle, whose goal is to become an executive chef for Four Seasons. So he's finding his footing, with some hits, some misses, and not a few safety dishes.
Safe: cucumber & Dungeness crab canelloni. Safe: potato & ricotta gnocchi with rainbow cauliflower. Wildly off the mark: a salmon salad hidden under a thicket of "crisp" rice noodles with plums and quail egg; the noodles were soggy, the plums too sweet and the egg irrelevant. Nice idea, poor execution: diver scallops with mussels, garlic scapes and caper-flower tartar; the capers overpowered the delicate scallops. Solid: lamb three ways: a pistacchio-crusted lamb chop was fine, as were lamb riblets over ratatouille and a lamb merguez sausage from Uli's Famous Sausage in the Market. The duck breast was tasty, and the accompanying brioche and red-onion jam provided the most interesting seasoning of the night, a French curry spice called Vadouvan..
We drank wines by the glass from several local wineries, notably the Aix from Delille Cellars, a syrah-cabernet blend in the style of Eloi Durrbach's Domaine de Trévallon, not far from Aix, whose rich berry flavors jumped out of the glass.
ART Restaurant, Four Seasons Hotel, 99 Union St., Seattle, 206-749-7070