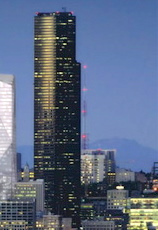 The enormous and unwieldy Costa Concordia, three times the size of the Titanic, twice the size of a Jumbo Ferry, lies beached on the rocky coast of Giglio. If you brought the two-block-long ship to downtown Seattle and stood it on end (perish the thought), it would be as tall as the Columbia Tower, with roughly the same population (4,200) and roughly the same square footage.
And yet, the Concordia isn't even in the top dozen cruise ships. The biggest, named Oasis of the Seas and owned by Royal Carribean, is twice as large.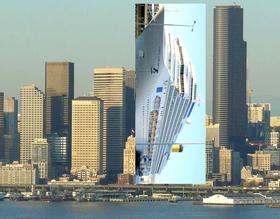 The Costa Concordia was built six years ago by one of the giants of Italy's economy, Fincantieri, a ship-building company headquartered in Trieste with manufacturing yards on both the Adriatic and Ligurian coasts. Italy's Environment Minister called for banning cruise ships from sailng close the Italian coastline, at least until it was pointed out that Fincantieri is the second-largest builder of cruise ships in Europe and the largest in the Mediterranea, providing 10,000 jobs at its shipyards in Monfalcone and Genoa. A ship like the Concordia costs at least $500 million.
Costa Cruises is part of Carnival Corp., which also owns Carnival Cruises and another ten lines (among them:Cunard, Holland America, Princess, and Seaborn) and controls half the $30 billion cruise market.

At year-end 2010, the cruise industry carried 14.8 million guests worldwide, according to CLIA's Year-End Passengers' Carrying Report. The vast majority of its customers sailed safely on their vacations, it's often pointed out, while over 30,000 people die every year in automobile crashes in the United States (the number was 50,000 a year forty years ago). In 2010, not a single person died in a commercial airplane crash.
Nonetheless, Carnival Cruise Lines has suspended its broadcast and digital advertising (and direct mail, too) "for the time being," a company spokesperson said. Meantime, they're still finding bodies, and trying to keep the oil slick from spreading.