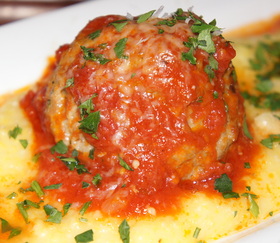 PHOENIX--Let's start with the newsy bit: Peter DeRuvo, the chef at Cuoco Pazzo in Scottsdale's Old Town, just quit, saying he couldn't get along with the owners, the Rana family.
My guess is that DeRuvo, a veteran of Italian-themed restaurants around the valley, was already out the door when we stopped by for dinner earlier this week, since the bar manager. none other than Mario Rana, Jr., explained that "my mom is in the kitchen and does most of the cooking."
A couple of nice items: suppli (saffron-scented rice balls stuffed with mozzarella and bits of meat, then deep-fried) arrived on a bed of marinara sauce, topped with pecorino shavings. (Yes, they're identical to the arancini sold as a street food breakfast in Sicily.) And a trio of savory meatballs (pork, veal and beef) was served on a smooth polenta.
DeRuvo arrived with great ambition: he'd do his own butchering, he'd make all his own pastas. Where and when did all that go wrong, since Cuoco Pazzo's been open less than four months?
Maybe DeRuvo did make his own pasta, but it wasn't evident in the signature dish of "black tagliolini." There's a reason that authentic Italian restaurants use squid ink to make their fresh pasta: to give it the aroma, the scent, the vitality of the Mediterranean.
If you use commercial pasta, you don't get that same excitement. Cuoco Pazzo's "tagliolini," accompanied by a medley of mussels, clams, prawns and calamari in a tangy tomato sauce, could have been spectacular had they been more than fettuccine colored black with food dye.
Let's hope Mamma Rana can get in touch with some real Italian cooks before it's too late. They don't have to be professionals, but they shouldn't be crazy enough to settle for bland.
Cuoco Pazzo, 4175 N. Goldwater Blvd, Scottsdale, AZ 480-265-9814