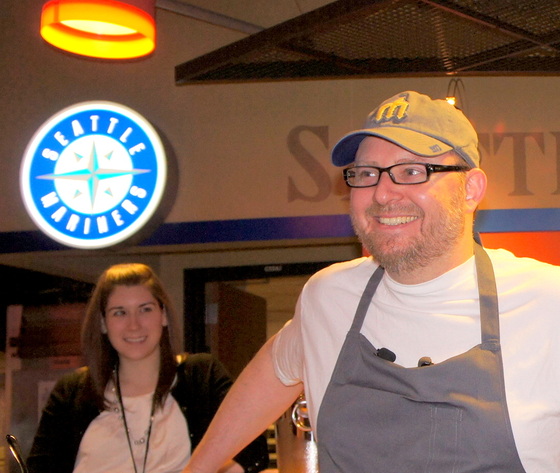 Ethan Stowell presented his food concepts at Safeco Field's Hit It Here Cafe
The Mariners' home opener is coming up, and we never go to the ballpark without getting something to eat. Several things, usually. A week ago, Eater ran a piece about the best places to nosh at the Safe, and we had a chance to preview some of the new items created by guest-chef Ethan Stowell.
A catering company called Centerplate actually manages the concessions, not just at the Safe but at 250 sports, entertainment and convention venues around the country, including racetracks (Saratoga), airports (Dulles), ten NFL football stadiums and four baseball parks, including the Mariners. For all of its nationwide reach, Centerplate's emphasis is on local food, since there's nothing as local as rooting for the home team, after all. And after culinary superstar Tom Douglas (who has his hands full), there's probably no more "local" chef in Seattle than Stowell.
There's a difference between running a 60-seat restaurant and feeding 40,000 people at a ball game, but the concept of hospitality has to be the same, says John Sergi, Centerplate's chief design officer. "We're just upping the ante with local ingredients, but it's not just about selling food," Sergi says, "it's about engaging people."
There are over 150 places to buy food and drink at the Safe, with even more coming. Because of its leisurely pace, baseball is particularly suited to grazing. So what's Stowell going to do? Sliders, brats, burgers, po-boys. "I feel comfortable ordering 1,500 pounds of pork [for the $9.75 BBQ brisket] because the biggest battle is high quality ingredients."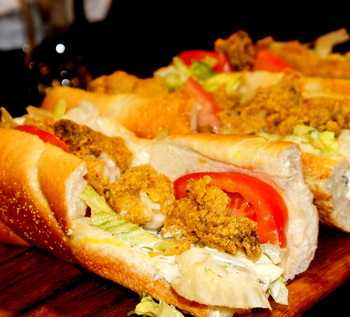 The beef will come from Painted Hills, the pork from Carlton Farms. And, best of all, the freshly-shucked oysters for the $8.50 Oyster Po'Boy (right) will come from Taylor Shellfish Farms. Battered in panko and deep-fried, they're topped with spicy remoulade, shredded iceberg lettuce, a slice of tomato and served on a Franz Pioneer bun. And only at the complex behind center field formerly called the Bull Pen, now renamed The 'Pen.
"I'm excited about the new food items, which are a continuation of what we began last year in the 'Pen and hope to spread throughout the ballpark: local product and fresh ingredients," Stowell says. It's a growing trend, even if (frankly) ballpark fare is basically street food.
Ah, but what about poutine, you ask? Poutine, that French-Canadian dish, cheese curds and gravy over french fries, beloved of late-night revelers in Quebec? "Not local," snaps Centerplate's general manager for the Safe, Steve Dominguez. "We haven't had it since 2009."