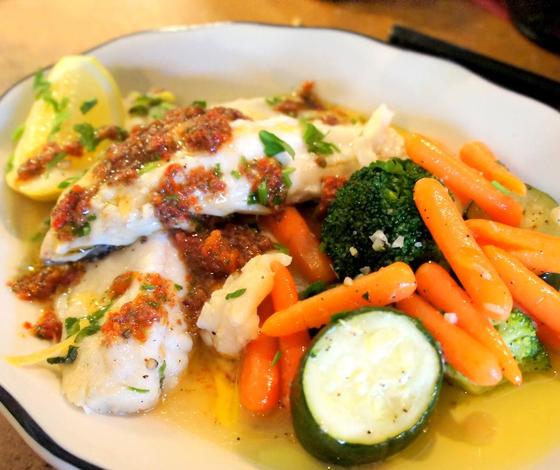 These have already been on Facebook, but they also belong on Cornichon: two full-flavored seafood dishes created this week by chef Enza Sorrentino for diners at Mondello Ristorante in Magnolia.
First, above, branzino all'acqua pazza, Mediterranean sea bass poached in fish stock, white wine, garlic, tomatoes. Acqua pazza, literally "crazy water," is how the Italian shorthand for describing the poaching liquid. The branzino is served with sautéed vegetables.
Last night, another creation: couscous di pesce. It's a straightforward Mediterranean couscous (semolina), as if such a thing could ever be described as straightforward. In Sicily, says Enza Sorrentino, only the old women (her mother's generation) prepare this dish with any regularity. let alone any success. Although it's made with meat in North Africa, the Sicilian versions use catch-of-the-day fish. The one Enza made used local rock fish and a couple of tiger prawns. Fragrant and lush!
Mondello Ristorante, 2425 33rd Ave W., Seattle, 206-352-8700