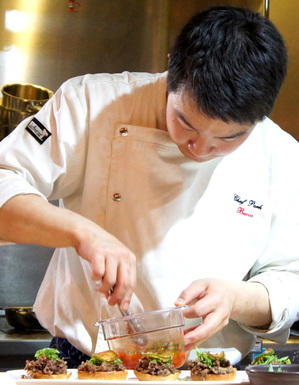 The latest opening in the cocktail-bar tsunami is Chan, which the owner and chef, Heon Soon Park, spells Cha:n, and which means "all the food except the rice."
Park also runs Bacco, upstairs, and actually cooks for both places on the lower level, in a corner of the courtyard of the Inn at the Market. He wants Seattle to savor his Korean dishes, so he's actually making them less distinctive, more mainstream. "Modern Korean Fusion" is how he puts it.
Case in point, the tuna tartare, which is coated with a taste-deadening, soy-ginger dressing and accompanied by bland slices of avocado. The rice cakes on a stick were unpleasantly chewy and icky-sweet (but a Korean friend said she remembered the texture from her childhood). One of the desserts, described as ginger crème brûlée with candied ginger, was almost flavorless. On the other hand, his bulgogyi sliders were pefectly delicious, and the cucumber kimchi atop the beef provided a welcome, pleasant crunch.
The cocktail list is similarly muddled (pun intended). Calling something a "Kor royale" doesn't make it a Kir Royale, even if you use Korean raspberry wine (and prosecco).
It would be great to have an intimate Korean bar in this elegant courtyard, but so far, Chan's ain't it. The concept of small-plates and Korean fusion feels both improvised and overthought, its execution for the moment underwhelming.
Chan's is but the first in a series of new Happy Hour offerings around town. We'll get to the rest in due course. One drink at a time, please.
Chan, 86 Pine St. Seattle, 206-443-5443​