It's not the fervid excitement that used to precede a Sonics game at Key Arena, with vendors in the aisles: "Getcher programs, getcher co' beer, getcher sooshee!" (Not really, but you get the idea). Instead, there's a tranquil anticipation leading up to the first-ever simulcast of a local opera production.
No matter that it's actually happening, live, at McCaw Hall, barely 300 yards away, the premiere of Seattle Opera's Madama Butterfly. The HD screen at one end of the Key is enormous, 50 by 80 feet, dwarfing the evening's live presenters. Previews play: interviews with designers and directors. And, just like the movies, there's a cartoon, the iconic "What's Opera, Doc?" parody of classical Wagner stagings. Then Speight Jenkins steps to the microphone at McCaw and onto the screen, ten times larger than life, to say a few words of welcome.
"Lights!!" someone shouts from the balcony, where spotlights are still glaring. As conductor Julian Kovatchev mounts the podium (in a view from the orchestra pit that non-musicians will never see), the shouting becomes a chant, "Turn down the lights! Turn down the lights!" Just in time, the house lights dim, and the maestro gives the downbeat.
Movie directors have known for decades that closeups do wonders for drawing people into a story. ("We didn't need dialogue; we had faces.") and Madama Butterfly's Patricia Racette spends the next three hours reconfirming her status as the queen of opera in HD opera: She doesn't need to say it: she is big. It's the pictures that got small.
With remarkably few glitches (a split-screen effect in Act III that failed due to a wayward camera), the simulcast was better than the best seat I've ever had at McCaw. No opera glasses needed.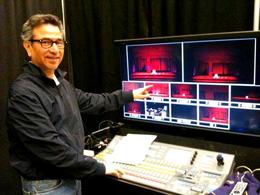 Video director Frank Zamcona (known for the San Francisco Opera's successful "Opera at the Ballpark" series) uses his seven HD cameras to propel the story in ways that you can't see no matter where you sit, where you view the full stage no matter what. In Act I, for example, the camera catches Suzuki overhearing Pinkerton tell Sharpless that he's looking forward to the day he'll marry a "real American wife." No way that a Japanese servant girl like Suzuki could actually understand a word of English, but the cutaway (and Suzuki's arched eyebrow) tells the audience that she's already wary of Pinkerton.
The music continues without interruption. There are no recitatives, no spoken dialogue; everything is sung with dramatic immediacy. We see every twitch in Butterfly's composure. Patricia Racette isn't playing a part or singing a role, she's inhabiting her character with such conviction that we forget we're watching a performance. Even though the story is familiar, the outcome known to every opera-goer, we live Butterfly's anguish, and at the climax, when Butterfly surrenders her child and kills herself, thousands of sports fan gasped in horror.
At McCaw, as Racette took her bows, the audience was on its feet (you could hear them cheering wildly), yet the Key was muted, the crowd strangely silent. Applause, yes, but polite. Almost no one standing. Not because they weren't thrilled, in my view, but because they were numb. It's thrilling to see and hear opera live, and we've been conditioned to respond with applause and calls of bravo at live performances. The hybrid HD experience overwhelms our senses and seems to call for a new set of responses. When we were kids at the matinee, we'd cheer for the cavalry. HD is a different sort of adventure but we should allow ourselves to become kids again and cheer like crazy.
Frank Zamora photo by Jonathan Dean, Seattle Opera
(UPDATE of sorts: this isn't just a Seattle issue; according to the NY Times, it's an HD problem.