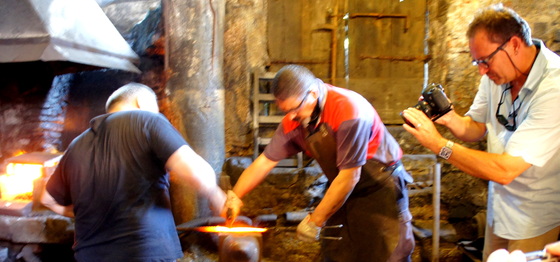 Videographer Tim Kennedy of Calistoga, Calif., films the blacksmith and his assistant at the Averoldi Hammer Museum
FRANCIACORTA, Italy--Below the village of Ome (Oh-May), on these Alpine foothills of northern Italy, runs a stream that once powered both a grain mill and an iron works. The grain is milled at the cooperative these days, and the blacksmith died over 25 years ago, but the forge, rebuilt by the municipalty in 1997, is back in business as a functioning educational museum.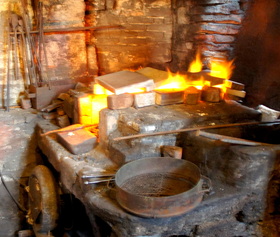 The new team of blacksmiths are part of an elite, worldwide brotherhood of custom craftsmen. There's an active American Bladesmith Society with members around the country but concentrated, as you might expect, in the heartland states. In fact, one member of our delegation of wine professionals (spending a week here to learn more about the region), is Master Sommelier James Tidwell of the Four Seasons in Dallas, who is himself a collector of art and artisan knives. There's a great deal of similarity, he points out, between his own quest for the Master Sommelier designation and the MS earned by Master Smiths.
This workshop, which was built in the 15th century, is entirely powered by the mill stream and the easily mined coal dug out of the nearby hills. Water turns the grindstones and raises the giant hammer to beat the bronze and steel into agricultural tools, decorative household items, and, most valuable of all, exquisite steel blades, from stilettos and poignards to swords and sabers. (There have already been a couple of Cornichon posts about this blade-making tradition.)
Northern Italy is fertile ground for these artisan precursors to modern machine shops. The reason is that many Alpine valleys were inhospitable to agriculture but rich in torrential streams and accessible minerals. Over the centuries, the region's workforce gained expertise in artisanal metal-working, and had the skills necessary for precision tool & die making in the workshops of Fiat and Ferrari, Bugati, Ducati and Lamborghini. Slaving over a hot forge may not be everyone's idea of fun, but it turns out to be good training if you want to build precision race cars.
Our visit to Franciacorta is being hosted by the Consorzio of Franciacorta produceers. Grazie mille!