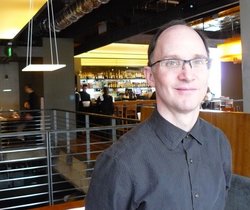 The buzz this week has been all about ambitious local restaurants setting up outposts in Manhattan. Not Rick Yoder, owner of the 450-seat Wild Ginger in downtown Seattle and its 300-seat sibling at the Bravern in Bellevue. "I do get calls almost every day," he confirmed to Cornichon this week, "inviting me to open in Orange County, Chicago, New York." So far, he's been telling them no. Not never-ever, he said, but no for now. In the meantime, night after night, he continues to work the floor, shyly offering guidance to cooks and servers, happy to see virtualy every seat filled even midweek.
Getting a toe-hold in another market could be tough. Wild Ginger chefs crack their own coconuts, grind their own spices, blend their own sambal. It's a very labor-intensive kitchen, very dependent on the freshest ingredients, yet the average check at Wild Ginger is under $40, only slightly more than the $30 tab in most Seattle restaurants (Canlis excepted, of course.) It's doubtful that Yoder's eager out-of-state investors would let him get away with so little in Los Angeles.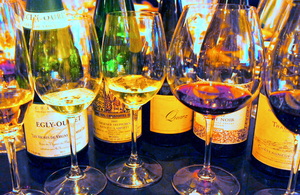 Less controversial is what to drink with chef Jacky Lo's panoply of Asian-inspired dishes (fragrant duck with ginger and star anise, Princess prawns with peantus and chili, salmon in curry coconut sauce, Mandarin chicken, Mongolian noodles).
Yes, Champagne is always welcome; yes, pinot noir from Oregon goes well with almost anything; yes, a southern Rhone blend is jammy and delicious with the duck. But it is the riesling that sings. On a recent tasting attended by Cornichon, it was a 2009 Joh. Jos. Christoffel Erben Treppchen Kabinet, a mouthful of a name for a German wine of surpassing subtlety, lightly aromatic, slightly sweet. No surprise that off-dry Rieslings of all stripes are winners with tuna, with prawns, with salmon, with crab. The big surprise: how fabulous they can be with duck, with chicken. .... with pork shoulder, with lamb.
"Whites are making a comeback," says Wild Ginger's wine director Cortney Lease.
"Riesling's such a good variety for everything we do here," says Yoder. "Compared to top red wines, they're not all that expensive, and they can last 50 years."
Wild Ginger, 1401 Third Avenue, Seattle, 206-623-4450